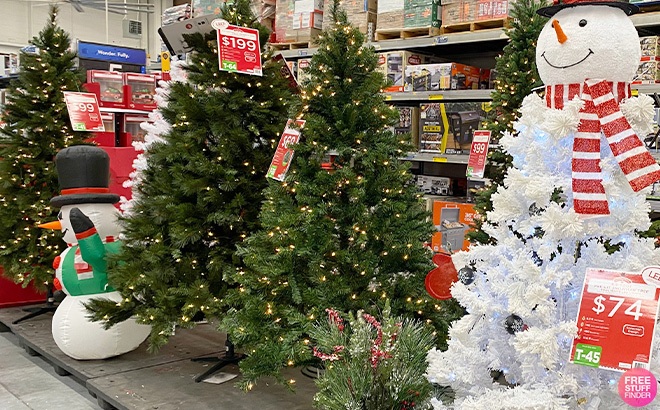 Christmas is near, so don't miss out on the best deals on Christmas Trees! Below, you can check out a roundup of all the best Christmas Tree sales as lots of stores began dropping prices as part of their Early Black Friday Deals.
⭐️ Best Deals By Category ⭐️
I figured it would be less overwhelming to break up the best deals by most asked for categories. This way, you can click thru to the section you are interested in.
If there are other categories you are needing, let me know and I'll work on getting them made for Cyber Monday
You can also check out our Best Black Friday Deals Roundups below:
We will be adding more deals to this post as new sales are released. Also, don't forget to bookmark our Black Friday Deals page for the latest Black Friday deals we find!
Target Artificial Christmas Trees & Decors
Wondershop Alberta 6-Foot Pre-Lit Artificial Trees
(clear lights)
ONLY $30 (Reg $60)
*$28.50 for RedCard Holders
Wondershop Alberta 6-Foot Pre-Lit Artificial Trees
(multicolor lights)
ONLY $30 (Reg $60)
*$28.50 for RedCard Holders
Wondershop 7-Foot Unlit Artificial Christmas Tree
ONLY $55 (Reg $100) + FREE Shipping
*$52.25 for RedCard Holders
Wondershop 4.5-Foot Pre-Lit Artificial Christmas Tree
ONLY $60 (Reg $100) + FREE Shipping
*$57 for RedCard Holders
Wondershop 25-Count LED C9 Smooth String Lights
ONLY $5.40 (Reg $9)
*$5.13 for RedCard Holders
Wondershop 80-Count LED C9 String Lights
ONLY $21 (Reg $35)
*$19.95 for RedCard Holders
Wondershop 2-Pack Starburst Multicolor Lights
ONLY $12 (Reg $20)
*$11.40 for RedCard Holders
Wondershop 2-Pack Starburst Warm White Twinkle Lights
ONLY $12 (Reg $20)
*$11.40 for RedCard Holders
Walmart Artificial Christmas Trees & Decor
Holiday Time Prelit 6.5-Foot Artificial Christmas Tree
(Available in 6 colors)
ONLY $39 (Reg $49) + FREE Shipping
Inflatables Elf Car Buddy
ONLY $14.98
Airblown Inflatables Santa Claus Car Buddy
ONLY $18.88
Bed Bath & Beyond Pre-Lit Christmas Trees & Decors
6-Foot Pre-Lit Christmas Tree
ONLY $35 (Reg $80)
6-Piece Christmas Tree Set
ONLY $50 (Reg $100) + FREE Shipping
Pre-Lit Christmas Wreaths (Set of 3) $20
Use unique promo code (extra 20% off with email sign-up)
ONLY $16 (Reg $20)
*just $5.33 each

6- Foot Christmas Garlands (Set of $2) $20
Use unique promo code (extra 20% off with email sign-up)
ONLY $16 (Reg $20)
*just $8 each
Michael's Pre-Lit Christmas Trees
4-Foot Pre-Lit Christmas Tree, Multicolor Lights
ONLY $24.99 (Reg $50)
4-Foot Pre-Lit Christmas Tree, Clear Lights
ONLY $24.99 (Reg $50)
7-Foot Pre-Lit Christmas Tree, Clear Lights
ONLY $59.99 (Reg $130)
7-Foot Pre-Lit Cashmere Christmas Tree, Clear Lights
ONLY $69.99 (Reg $160) + FREE Shipping
7-Foot Pre-Lit Willow Pine Christmas Tree, Clear Lights
ONLY $89.99 (Reg $200) + FREE Shipping
7-Foot Pre-Lit Willow Pine Christmas Tree, Multicolor Lights
ONLY $89.99 (Reg $200) + FREE Shipping
JCPenney Christmas Wreaths
North Pole Trading Co Ornament Christmas Wreath
JUST $19.99 (Reg $62)
North Pole Trading Co. Chateau Gold Glitter Leaf Indoor Christmas Wreath
ONLY $23.99 (Reg $62)
North Pole Trading Co. Red Amarylis Indoor Pre-Lit Christmas Wreath
ONLY $23.99 (Reg $62)
Lowe's Pre-Lit Christmas Tree 4-Piece Set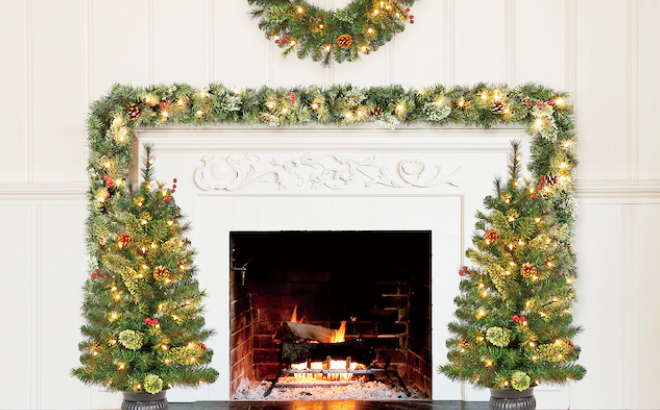 Pre-Lit Christmas Tree 4-Piece Decor Set
JUST $59 ($149 value) + FREE Shipping