Check out this roundup of the Best Black Friday Deals on Toys. You can fulfill all your toy shopping needs without breaking the bank. That's why we've rounded up our best toy finds from Amazon, Kohl's, Target and Walmart to help you save big. Some of these offers are available for a limited time only so check them out below. 
Make sure to check these out too:
⭐️ Best Deals By Category ⭐️
I figured it would be less overwhelming to break up the best deals by most asked for categories. This way, you can click thru to the section you are interested in.
If there are other categories you are needing, let me know and I'll work on getting them made for Cyber Monday
Amazon Toy Deals
LEGO 608-Piece Orchid Kit
ONLY $39.99 (Reg $50) + FREE Shipping
LEGO 878-Piece Bonsai Tree Set
ONLY $39.99 (Reg $50) + FREE Shipping
Fidget Toys 4-Pack
ONLY $8.99 (Reg $22)
Kidzlane Voice Changer Microphone for Kids $21.99 (Reg $25)
Clip the additional 10% off digital coupon (under the price)
ONLY $19.79 (Reg $25)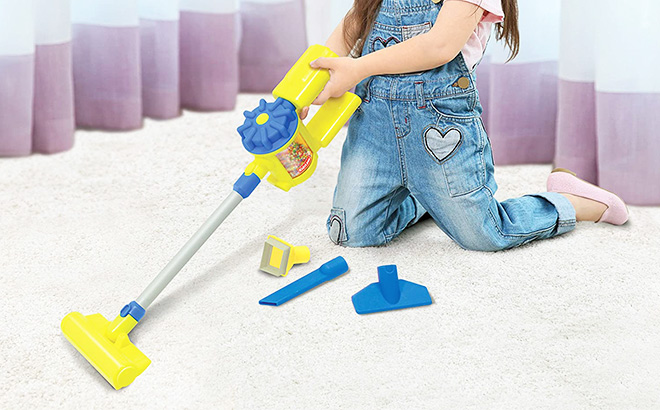 Kidzlane Kids Vacuum for Toddlers
ONLY $19.99 (Reg $30)
KidKraft Majestic Mansion Wooden Dollhouse
ONLY $134.49 (Reg $240) + FREE Shipping
*Same price at Walmart
Walmart Toy Deals
LOL Surprise Tweens 5-Pack Series 1&2
ONLY $49 + FREE Shipping
Rainbow High Fashion Dolls 5-Piece Set
JUST $49 (Reg $90) + FREE Shipping
Baby Alive Lil Snacks Doll
ONLY $9.65 (Reg $12)
Disney Princess Doll Gift Sets w/ Child-Sized Dress
(available in 7 characters)
ONLY $25
LEGO Classic 1,500-Piece Set
ONLY $25 
Hot Wheels Volcano Escape Play Set
ONLY $25

DC Comics Justice League Action Figures 6-pk.
JUST $14.88
Barbie Dreamhouse Doll House Playset
ONLY $99 (Reg $225) + FREE Shipping
Barbie DreamCamper Playset
ONLY $64 (Reg $100) + FREE Shipping
FREE Magic Mixies Mixlings 4-Pack at Walmart!
Click this link for info.
Kohl's Toy Deals
Step2 Modern Cook Kitchen $59.99 (Reg $100)
Pay: $59.99
Get Back: $15 Kohl's Cash for spending $50 (x11/25)
ONLY $59.99 (Reg $100) + $15 Kohl's Cash + FREE Shipping
(like $44.99 after Kohl's Cash)
Kohl's Cash Redeemable 11/26 – 12/7
Little Tikes Basketball Hoop
ONLY $19.99 (Reg $30)
Batman Ride-On
ONLY $19.99 (Reg $35)
Disney's Mickey Mouse Pillow Buddy by The Big One $19.99 (Reg $40)
Use promo code ENJOY15 (extra 15% off, x11/25)
ONLY $16.99 (Reg $40) 
Disney's Minnie Mouse Pillow Buddy by The Big One $19.99 (Reg $40)
Use promo code ENJOY15 (extra 15% off, x11/25)
ONLY $16.99 (Reg $40) 
Star Wars The Mandalorian Grogu Pillow Buddy by The Big One $19.99 (Reg $40)
Use promo code ENJOY15 (extra 15% off, x11/25)
ONLY $16.99 (Reg $40)
Target's Toy Deals
Hot Wheels Track Builder Set
ONLY $29.49 (Reg $35)
*$28.01 for RedCard holders
Black+Decker Ready to Build Workbench Playset
ONLY $34.99 (Reg $70)
*$33.24 for RedCard holders
Jetson Mojo Light Up Hoverboard
(available in 7 colors)
ONLY $99.99 (Reg $160) + FREE Shipping
*$94.99 for RedCard holders
Buy 1 Chuckle & Roar Old Maid, Spoons, Matching & Crazy 8s Card Games $3.49 (Reg $7)
Buy 1 Chuckle & Roar Tray Kids Puzzles 4-pack $3.49 (Reg $7)
Subtotal: $6.98
Buy One Get One 50% Off (x11/27) = -$1.74
ONLY $2.62 each or $5.24 for both
*$2.48 each for RedCard holders