CVS Couponing
I LOVE CVS! While Walgreens is the store I learned how to coupon in, CVS is definitely my favorite place to coupon. There are so many ways to save! I also love that CVS is a newbie friendly place to learn How to Coupon.
CVS is a pharmacy that also offers weekly deals on household items, baby products, personal care, food and much more! If you're looking for a great store to dive in to learn how to coupon, CVS can be the perfect place to start. Their reward system is relatively straightforward and offers immediate ways to get started with huge savings. Let's get started learning how to coupon at CVS:
Step #1: Understand CVS ExtraCare Rewards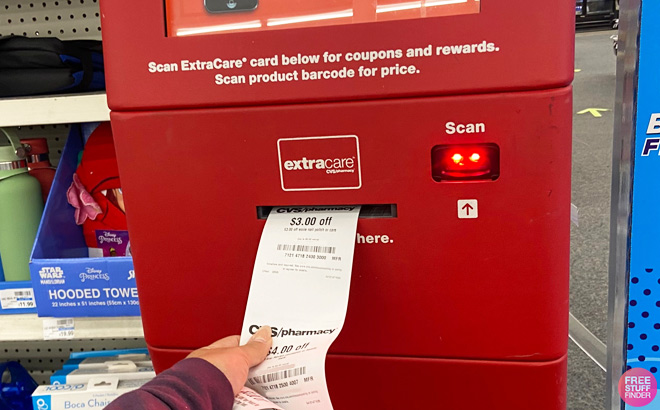 The first thing that you need to know about when you want to start couponing at CVS is the CVS ExtraCare Rewards Program. You have to be a rewards program member to get the sales price of items, get CVS coupons and earn ExtraBucks ("ECB"). It's easy and FREE to sign up for a membership here or in your local CVS store.
ACTION ITEMS:
1. CVS Coupons: Paperless or at the Red Coupon Machine
Once you are an ExtraCare Rewards member, you can get CVS coupons. You can get these coupons in-stores via Red Coupon Machine, at the bottom of your sale's receipt, from the CVS' website, or on the CVS App.  Sometimes you'll get percent-off coupons emailed to the address linked to your ExtraCare Rewards account.
My favorite way to get CVS coupon is from the Red Coupon Machine (aka "Red Box Machine"). First thing you should do when you enter the store is putting your phone number or scanning your CVS card at the Red Coupon Machine. If there are coupons for your account, they will print.
These coupons will vary by account, not everyone will get the same coupon. These coupons are often extra beneficial because many (but not all) of them are tailored to your shopping habits. This means that if you purchase a lot of diapers, you'll be more likely to get a coupon printed out at the Red Coupon Machine for diapers. 
These CVS coupons are typically a dollar off coupon in a certain category or product brands. For example, $5 off $25 purchases of Diapers & Wipes
You may also commonly hear couponers refer to these Red Coupon Machine printed CVS coupons as "CRTs". CRT stands for Cash Register Tape and refers to coupons that print at the bottom of your receipt (Side Fact: Receipt is known as "Register Tape").
2. ExtraBucks: Earn Them & Spend Them Like Cash
ExtraBucks ("ECB") are the key to saving big at CVS. These are special rewards dollars that you get for purchasing certain items. Sometimes you even earn ECB for doing simple things like downloading the CVS app!
The best thing about ECB is that they spend like CASH (almost). You can stack the with manufacturer AND CVS store coupons. You can learn which items are printing ECB by checking the CVS Weekly Ad here or printed on sale's tags in stores. ECBs are typically only good for 3 weeks after they're printed. The expiration date is written on the ECB.
There are some restrictive items that you are now allowed to pay using ECBs. Things like Alcohol, Tobacco, Stamps, Milk, Prescription Medication, Lottery Tickets, etc. The restrictive items are written in the fine print on the ECB.
Side Note: If you do try to use ECB on restrictive items and the cashier lets you, what happens is the computer will automatically zero out your ECB such that no amount is being reduced on that item. And your ECB will go to waste. So don't do that. 🙂
Step #2: ExtraBucks Rules
Now that you know the details and benefits of having an ExtraCare Rewards membership, let's learn about ExtraBucks. Learning how to properly use and redeem ECB is the biggest part of learning how to successfully coupon at CVS. There are several different ways to earn ECB and a specific way you'll want to redeem them in order to save the most.
1. Earning ExtraBucks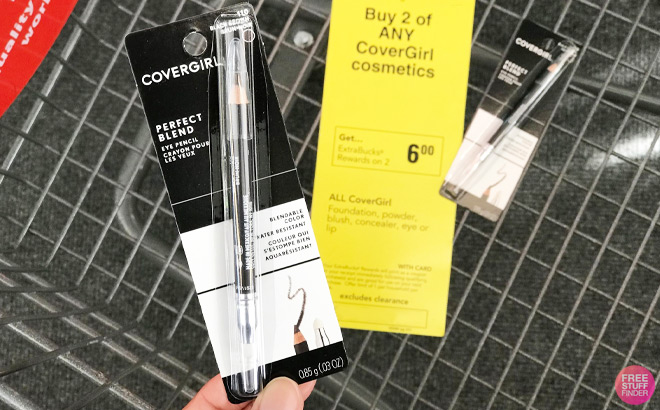 Purchasing select items:
Each week, CVS will offer ECB promotions on select items. ECB will print at the end of your CVS receipts. These might be unit promotions, such as "Buy 1 Crest Toothpaste, Get $1 ECB", or threshold promotions, such as "Spend $30 on Huggies, Get $10 ECB". ECB promotions are not limited to one per transaction, so if you purchase 2 Crest Toothpastes (using the example above), you can earn $2 ECB.
Threshold ECB are calculated pre-coupons, meaning that as long as you hit the $30 BEFORE any manufacturer coupons are calculated, you'll earn your reward.
CVS also tracks your purchases among multiple transactions, so as long as you spend the total amount toward the threshold during the period the promotion is active, you'll still earn your ECB. This means you do not need to buy everything in one transaction. You can even buy from multiple CVS stores to hit the threshold.

Keep in mind that these promotions do have limits. In the weekly ad and in store sales tags, it will tell you whether the promotion is "Limit 1", "Limit 2", etc. You will also not earn ECB on clearance items.
Special Offers:
Often, CVS offers special promotions that give you additional opportunities to earn ECB. Sometimes, these are offers emailed to the address connected to your ExtraCare Rewards account. As with the Red Coupon Machine coupons, these are tailored to the user; not everyone will get the same offers. These are offers such as "Spend $15, get $3 ECB". These are also calculated pre-coupons and can be stacked with manufacturer coupons, store coupons and other ECB promotions.

Occasionally, CVS will also offer ECB promotions in return for completing certain tasks. Right now, you can earn $3 ECB just for downloading the CVS app onto your smartphone!
2. The 98% Rule
When doing a threshold ECB offer, CVS computers will trigger an ECB when you get within 98% of the total you need to purchase. For example, if the offer is "Buy $30, get $10 ECB", you really only need to purchase $29.40 worth of products in order to get the ECB.
However, if the ECB offer is a tiered reward with several levels, the 98% rule won't apply to the first tier. For example, Buy $20, get $5 ECB or Buy $30, get $10 ECB, the 98% rule won't apply on the $20 but will apply on the $30 threshold.
3. Redeeming ExtraBucks: Let's Get Rolling!
ECB spend like cash at CVS. It's basically like FREE store money because they stack with manufacturer and store coupons. You can actually buy one item and use a manufacturer coupon, a store coupon and ECB to pay for the item. ECB cannot be redeemed on purchases of prescription medications or alcohol.

You can still earn ECB when you pay with ECB, also. This is called "Rolling" ECB. Rolling your ECB is the best way to spend them so that you're keeping your overall OOP very low. Some people prefer to do several small transactions in one day, earning and redeeming ECB on each one. Some people prefer to do one larger transaction each week, redeeming last week's ECB and earning new ones for the following week.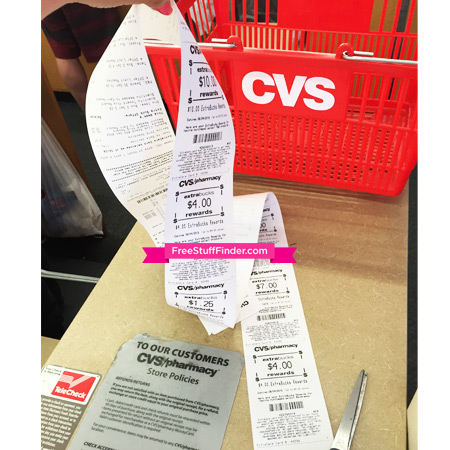 How you choose to do it is really up to you. The main thing to remember is to earn as much (if not more) in ECB than what you're paying in ECB in order to keep your ECB "stock" up. This ensures that you always have ECB to pay for your transactions with, keeping your actual out-of-pocket money very low.  Keep in mind that if you purchase an item worth less than your ECB, you forfeit the remaining value of the ECB. For example, if you buy a $1 item with a $3 ECB, you forfeit the remaining $2.00 value of the ECB.
If you're unsure about which deals are the best for redeeming ECB, don't forget you can check them all out here.
Step #3: Understand Coupon Policy
Now that you understand how the Rewards program works, your next step is to make sure you completely understand the coupon policy itself. It's a good idea to print out the CVS coupon policy and take it with you to the store when you shop so that there is no confusion on any points. Here is a basic overview:
You can use one manufacturer coupon and one store coupon per item.

Neither coupons nor ECB can be refunded or reissued. Make certain that you want to use them before your transaction.

No overage. The value of a coupon cannot exceed the price of the item. For example, you cannot redeem a $1.00 coupon on a $0.99 item without that $1.00 be adjusted down to $0.99.

CVS store coupons usually cannot be used on sale or clearance items (According to their new coupon policy). Manufacturer coupons are still accepted on clearance items.

Only one type of CVS store coupon can be used per transaction. For example, if you have a $2 off $10 Pantene purchase CVS store coupon and a $1.00 off 1 Pantene shampoo CVS store coupon, you cannot use these together on a $10 purchase to get a total of $3 off.

Rain checks will be awarded when an item is out of stock. The rain check will include the ECB promotion and the price. For example, if a box of Band Aids is on sale for $1.99 and includes a "Buy 1 Get $1 ECB" promotion, your rain check will include both the sale price and the ECB promotion, so that when you redeem your rain check you get both.

Percent-off CVS coupons are not redeemable on clearance or sale items. In other words, if there is an advertised sale price, percentage-off coupons won't work on that item. However, if there is an ECB promotion on a product without a sale's price, you can use the percentage off coupon.
What to do when an ECB Expires?
Officially on the coupon policy, it says that CVS do not take expired coupons. However, on an individual store bases, each store may have policies regarding expired CVS coupons (including ECB). The expired duration will vary by store. Ask your store for the specifics. And note that these informal policies regarding expired CVS coupons can change at any time. For example, some stores will take them expired up to a month, 3-months or 14 days.
What Are Rain Checks?
If a store is out of stock on a sale item, they will issue rain checks so that the sales promotion is honored even past the sale's promotional period.
Rain Checks at CVS are the best. As of this writing, CVS rain checks do not have an expiration date. And ECB promotions can be written on the rain check. When you redeem the rain check, if there is an ECB promotion written on it, the cashier can manually trigger for the ECB to print. Make sure to point this out to the cashier as sometime, they can miss seeing the ECB on the paper. Similarly, when getting a rain check, make sure the CVS employee write the ECB promotion on the rain check.
Step #4: Put it all together
Now that we know how ECB work and what the coupon policy says, let's put it all together to get a fantastic deal at CVS. Check out this example deal:
► Buy 3 CoverGirl Perfect Blend Eye Pencil @$4.99/ea = $14.97
(online price)
Use three $3/1 CoverGirl Eye Product (SS 5/7, x5/20) = -$9
Pay: $5.97
Get Back: $8 ExtraBucks for buying 3 (x5/13, limit 1)
Final Price: FREE + $2.03 Moneymaker
This means:
You'll buy 3 CoverGirl Perfect Blend Eye Pencil, at the price of $4.99 each or a total of $14.97.

Then you'll use three $3/1 CoverGirl Eye Product (from SmartSource 5/7 insert) to get a total of $9 off.

You're left with paying $5.97 out of pocket

but getting back $8 ECB for buying 3 of these products (threshold offer advertised in the weekly ad). As stated, the limit for this offer is 1, meaning you will only get the ECB for buying 3 ONCE.

After paying $5.97 and getting back $8.00 ECB, your final price for all three will be free with a $2.03 moneymaker.
And that's the gist of couponing at CVS! Get ready to roll those ECB! Remember to check the weekly CVS matchups on Free Stuff Finder each week for what's on sale this week and next week.
Additional Helpful Information:
If you have an issue with a cashier, it's always best to take it up with the manager on duty while you're in the store. If you're unable to do that, or if the manager is unable/unwilling to resolve the issue, you can contact CVS customer service.
There are a variety of different numbers you can call for further assistance, but for general customer service or issues with ECB, you can call 1-800-746-7287.
If you're a complete newbie, it's also a good idea to check out these How to Coupon articles to help you get started.