Check out this roundup of the best Black Friday Apple products deals we've found! You can get AirPods, iPads, Apple watches for a great price this Black Friday and Cyber Monday shopping season! We'll be updating this page as new sales are released!
Make sure you bookmark the Black Friday Deals page here for the latest Black Friday deals!
Check Out Our Best Black Friday Deals Roundups
⭐️ Best Deals By Category ⭐️
I figured it would be less overwhelming to break up the best deals by most asked for categories. This way, you can click thru to the section you are interested in.
If there are other categories you are needing, let me know and I'll work on getting them made for Cyber Monday
Apple AirTag Deal
Apple AirTag 4-Pack
ONLY $79.99 (Reg $99) + FREE Shipping
Apple AirPods Deals
Apple AirPods with Charging Case (2nd Gen)
ONLY $79 (Reg $119) + FREE Shipping
Apple AirPods (2nd Gen)
(with lightning charging case)
ONLY $89.99 (Reg $159) + FREE Shipping
*This deal is out of stock at the moment, but might be back any time. Keep checking!

Apple AirPods (2nd Gen)
ONLY $89.99 (Reg $130) + FREE Shipping
*$85.49 for RedCard holders
Apple AirPods Pro (1st Gen)
ONLY $159 (Reg $180) + FREE Shipping
Apple AirPods Pro (2nd Gen)
ONLY $199.99 (Reg $249) + FREE Shipping
Apple AirPods Pro (2nd Gen)
ONLY $199.99 (Reg $250) + FREE Shipping
Apple AirPods Pro (2nd Gen)
ONLY $199.99 (Reg $250) + FREE Shipping
*$189.99 for RedCard holders
Apple Watch Deals
Apple Watch SE (1st Gen) GPS
ONLY $149 (Reg $279) + FREE Shipping
Apple Watch SE
(40mm size, abyss blue color)
ONLY $149 (Reg $280) + FREE Shipping
Apple Watch Series 8 GPS 41mm
(available in 3 colors)
ONLY $349 (Reg $399) + FREE Shipping
*same price at Walmart

Apple iPad Deals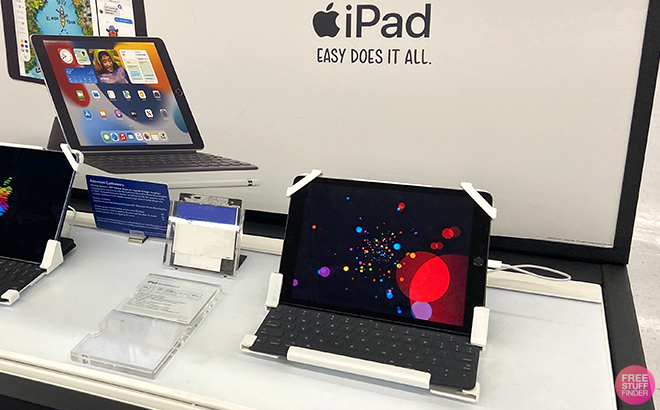 Apple iPad Pro 10.5-Inch
ONLY $219 (Reg $299) + FREE Shipping
Apple 10.2-Inch iPad 64GB
(available in 2 colors)
ONLY $269.99 (Reg $329) + FREE Shipping
Apple iPad (9th Gen)
ONLY $269.99 (Reg $330) + FREE Shipping
*$256.99 for RedCard holders
Apple iPad mini (6th generation)
ONLY $399.99 (Reg $500) + FREE Shipping
*$379.99 for RedCard holders
Apple iPad Mini 64GB (6th Generation)
(various colors available)
ONLY $399.99 (Reg $490)
Apple 12.9-Inch iPad Pro (128 GB)
(available in 2 colors)
ONLY $799.99 (Reg $1,100) + FREE Shipping
Apple 12.9-Inch iPad Pro (256 GB)
(available in 2 colors)
ONLY $899.99 (Reg $1,200) + FREE Shipping
Apple MacBook Air 13-Inch
(Gold/Silver/Space Gray)
ONLY $799 (Reg $999) + FREE Shipping