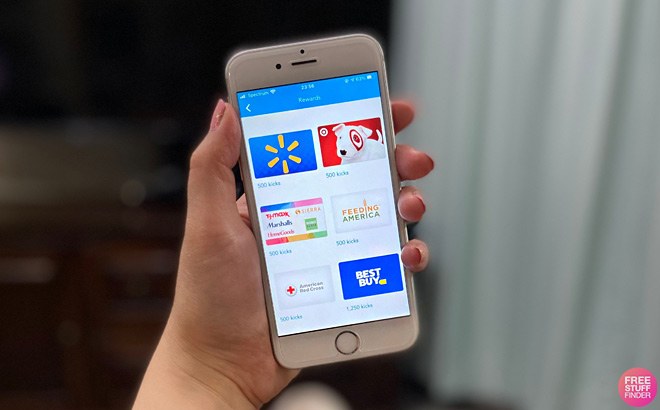 For a limited time only, Shopkick will be offering a FREE $5 Gift Card! This deal is valid for New Members who use our exclusive FSF promo code during their signup process! You will be able to redeem your points towards a FREE $5 Gift Card if you use our promo code and earn 10 kicks within 7 days of registering! Choose between many stores to redeem your Gift Card, including Target, Amazon, Best Buy, Sephora, JCPenney, Old Navy, Walmart, and many more!
📌Our reader Jciriaco shared her experience: I did this twice with different emails and numbers and got $10. Thank you!!!

📌Our reader Saba shared her experience: I had this app on my phone for a year or so. I asked my husband to create another account through FSF code. He only watched the videos in the discover section of Shopkick and earned more than 25 kicks within 10 mins or so ( without leaving the house) and just after that he got 1250 kicks and he redeemed it for amazon gift card. Thank you so much team FSF!

📌Our reader OliviaP shared her experience: Downloaded the app and used the promo code. Got the $5 gift card in the same day after scanning a few barcodes. Thanks Tina!
Here's What to Do:
Download Shopkick
Sign up for a new account!
Use the promo code FSF during signup

Missed the promo code entry? Tap the person icon in the top left, scroll to "Add invite or promo code" and enter FSF

Earn 10 kicks within 7 days of signing up and your 1,250 bonus kicks will show up in your account (That's $5 worth of kicks!)
What Are Kicks and How To Earn Them:
Kicks are Shopkick's version of reward points. Earn kicks in-store and online, then redeem for a wide selection of digital gift cards. Most Shopkickers can earn enough kicks for a gift card in a week! There are six different ways you can earn Kicks with the App:
Earn Kicks at the entrance of select partner stores.
Scan barcodes of select products using their in-app scanner.
Earn Kicks for every dollar you spend when you purchase with a linked credit card at select partner stores.
Purchase select items and submit your receipt through the app.
Earn and redeem kicks for digital gift cards to stores like Amazon, Best Buy, Sephora, Walmart, Target, and many more!
Earn Kicks and discover new products when you watch in-app videos.
Get started with Shopkick now to score your FREE $5 gift card!