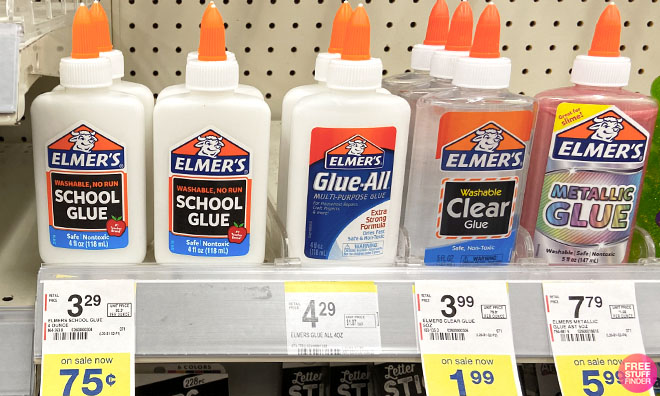 Head over to Walgreens where they're having a sale on school supplies with tons of great deals under $1! Plus, you can get $5 Register Rewards for spending $20 on Select School Supplies! Shop glues, erasers, colored pencils, and more! Check out the deal ideas below or you can browse more school supplies here! 
Most of the deals are available both in-store and online. If you're shopping online, shipping is free on orders over $35 or you can opt for free store pickup with a minimum order of $10 if it's available for you.
Please note that the images are for illustrative purposes and the price for some items just dropped!
School Supplies Under $1
Elmer's School Glue (4 oz)
ONLY 75¢ (Reg $3)
Wexford Pocket Folders
ONLY 21¢ (Reg $1)
Wexford Eraser Caps 15-Pack
ONLY 30¢ (Reg $1)
Wexford Pink Erasers 2-Pack
ONLY 30¢ (Reg $1)
► Buy 41 Wexford Erasers @49¢/ea (Reg $1) = $20.09
Pay: $20.09
Get Back: $5 Register Rewards for spending $20
Final Price: 37¢ each or $15.09 for all forty one
Wexford Memo Book 50 Sheets
ONLY 40¢ (Reg $1)
Wexford White Block Eraser 3-Pack
ONLY $1 (Reg $2)
Crayola Classic Crayons (24-count)
ONLY 99¢ (Reg $3)
Crayola Fine Line Markers (10-count)
ONLY $1.49 (Reg $5)
Crayola Broad Line Markers (10-count)
ONLY $1.49 (Reg $5)
See More School Supplies From Walgreens
Expo Markers (2-Pack)
ONLY $2.57 (Reg $5)
Elmer's Glue Sticks 3-Pack
ONLY $1.99 (Reg $4)
Paper Mate InkJoy Black Ballpoint Pens (8 ct)
ONLY 2.27¢ (Reg $4)
Paper Mate InkJoy Color Ballpoint Pens (8 ct)
ONLY 2.27¢ (Reg $4)
Deal Idea With $5 Register Rewards For Spending $20
► Buy 19 Wexford Notebooks @$1.07/ea (Reg $2) = $20.33
Pay: $20.33
Get Back: $5 Register Rewards for spending $20
Final Price: 81¢ each or $15.33 for all nineteen
► Buy 2 Pilot G2 Pens @$5.99/ea (Reg $9) = $11.98
► Buy 2 Ticonderoga Pencils (10 pk) @$2.99/ea (Reg $4) = $5.98
► Buy 2 Wexford Erasers @79¢/ea (Reg $2) = $1.58
► Buy Wexford Erasers = 49¢ (Reg $1)
Pay: $20.03
Get Back: $5 Register Rewards for spending $20
Final Price: $2.15 each or $15.03 for all seven