Are you prepared for Black Friday? Walmart will certainly have you excited because now you can start your holiday shopping with some early Walmart Black Friday 2023 deals, including toys! Here's a sneak peek at some of the best toy deals we found; check all deals below or you can browse more toy deals here!
These deals are available both online and in-store but if you are shopping online, shipping is free for Walmart+ Members or on orders over $35.
Bookmark our Black Friday Deals Page Here and download the FreeStuffFinder app to be notified of urgent hot deals! 
Walmart Black Friday Toy Deals
Toys Under $5
Disney Princess 5-Pack of Wood Jigsaw Puzzle in Storage Box
ONLY $5 (Reg $12)
Paw Patrol 5-Pack of Wood Jigsaw Puzzles in Storage Box
ONLY $5 (Reg $12)
*select locations
Paw Patrol Aqua Pups Chase and Shark Action Figures
ONLY $5 (Reg $10)
Connect 4 Classic Grid Board Game
ONLY $5 (Reg $12)
Sorry! Kids Board Game
ONLY $5 (Reg $12)
Hasbro Trouble Board Game
ONLY $5 (Reg $12)
Toys Under $10
Mini Bratz x Kylie Jenner Series 1 Collectible Figures
ONLY $7.99 (Reg $10)
Disney Princess Fashion Dolls
ONLY $5.73
Melissa & Doug Wooden Building Blocks 100-Piece Set
ONLY $10 (Reg $28)
Buffalo Games Charles Wysocki Holiday Jigsaw Puzzles
ONLY $10
Bop It! Marvel Spider-Man Edition Electronic Game
ONLY $10 (Reg $15)
UNO Attack Card Game with Card Launcher
ONLY $10 (Reg $25)
Hasbro Classic Family Favorite Operation Board Game
ONLY $10 (Reg $20)
Paw Patrol The Mighty Movie 8-Wood Jigsaw Puzzle in Storage Box
ONLY $10
Spidey 8-Puzzle Pack
ONLY $10 (Reg $18)
Disney Princess 8-Puzzle Pack in Storage Box
ONLY $10 (Reg $18)
UNO Quatro Game
ONLY $10 (Reg $17)
Buffalo Games Pokemon Holiday Three Interlocking Jigsaw Puzzles
ONLY $10
*select locations
Giant UNO Card Game
ONLY $10 (Reg $30)
Toys Under $25
Paw Patrol The Mighty Movie Mighty Pups Jet with Skye Figure
ONLY $13.79 (Reg $18)
Paw Patrol The Mighty Movie Mighty Pups Jet with Marshall Figure
ONLY $13.99 (Reg $18)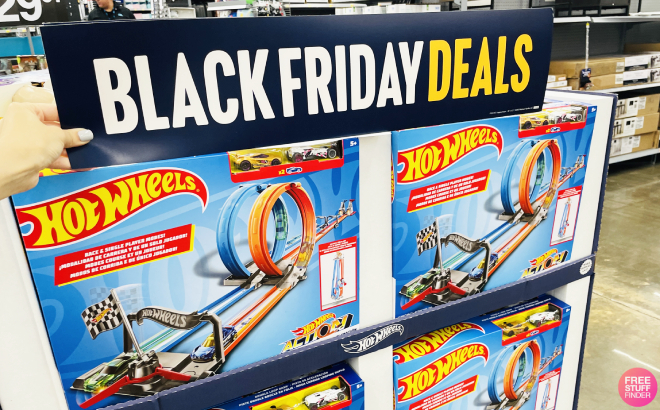 Hot Wheels Double Loop Dash Track Set
ONLY $18 (Reg $36)
Barbie Malibu Doll Travel Set
(10+ accessories)
ONLY $12.97 (Reg $22)
Barbie Marine Biologist Doll Playset
(10+ Accessories)
ONLY $12.97 (Reg $22)
Barbie Totally Hair Fashion Doll
(with star theme)
ONLY $14.27 (Reg $20)
Barbie Doll & Newborn Pups Playset
(11 Accessories)
ONLY $12.97 (Reg $20)
Play-Doh Ice Cream Truck Playset
ONLY $15 (Reg $22)
Disney Doorables The Incredibles Collector Peek
ONLY $17.97
Disney Doorables Wish Collector Peek
ONLY $17.97 (Reg $20)
Pokemon Trading Card Games Crown Zenith Collection
ONLY $25 (Reg $50)
Bratz Original 2-Pack Fashion Dolls
ONLY $25
► LEGO City 2023 Advent Calendar Building Set
ONLY $25
*available online for $26.24
► LEGO Friends 2023 Advent Calendar Building Set
ONLY $25
*available online for $25.99
Disney Classic Elsa Doll Playset
ONLY $25
Disney Princess Moana Doll Playset
ONLY $25 (Reg $33)
Disney Frozen Anna Doll Playset
ONLY $25 (Reg $65)
Toys Under $35
Monopoly Super Mario Board Game
ONLY $26.60 (Reg $16)
LEGO Harry Potter 2023 Advent Calendar Building Set
ONLY $33.99 (Reg $45)
Bratz X Kylie Jenner Day Fashion Doll
ONLY $29.97