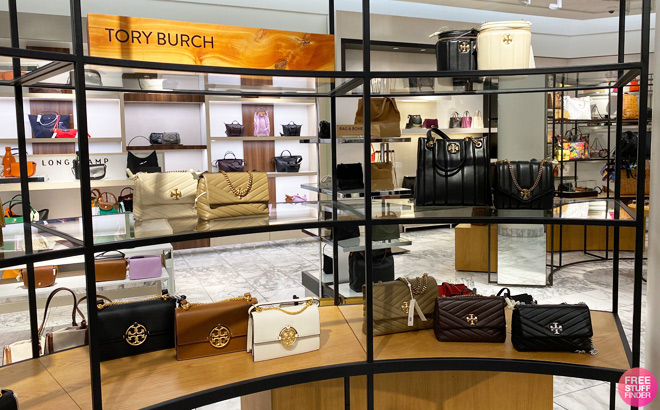 For a limited time, Zulily is having an up to 55% off sale on select Tory Burch items. For example, get this Small Patent Tote Bag for just $164.99, regularly $228. Shop the entire Tory Burch sale here or see a couple of deals that we highlighted below.
Note that shipping starts at $5.99 and goes up about $2 when you add a second item. However, they offer FREE Shipping for almost all additional items ordered by 11:59 PM that same day. So consider placing your order for the first item and then start a new order for any additional items and the shipping on those should be FREE (some exclusions may apply).
*Please note the image above is for illustrative purposes only, shown items may not be part of the sale.
Tory Burch Up to 55% Off
Tory Burch Small Patent Tote Bag
ONLY $164.99 (Reg $228)
Tory Burch Ella Chain Leather-Trim Mini Tote
ONLY $230.99 (Reg $698)
Tory Burch Eleanor Leather Slides
(available in 2 colors)
ONLY $125.99 (Reg $298)
Tory Burch Chevron Small Kira Leather Crossbody Bag
ONLY $269.99 (Reg $378)
*Please note the image above is used for illustrative purposes only, not all colors are available on sale.
Tory Burch Double-T Sport Leather Slides
(black color)
ONLY $169.99 (Reg $198)
Tory Burch Tory Tote
(2 colors)
ONLY $199.99 (Reg $298)
Tory Burch Miele Miller Soft Leather Sandal
(4 colors available, limited sizes)
ONLY $169.99 (Reg $198)