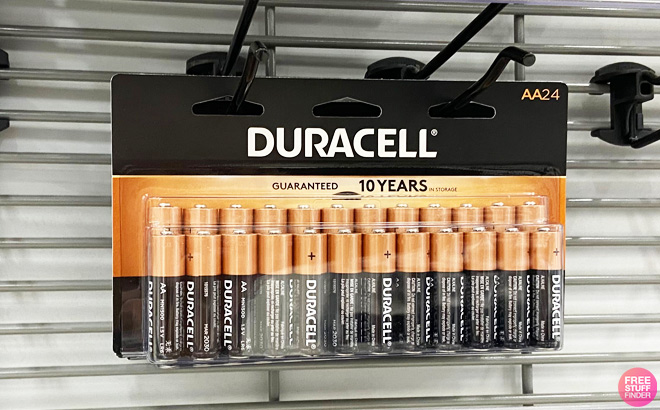 Through February 4th, visit Office Depot where you can score two free Duracell batteries packs after rewards! For example, grab two Duracell AA Alkaline Batteries (24-pack) at $35.99 each – a total of $71.98. In addition, you can get 20% off when you use the promo code 24532380, pay $57.58, and get back $57.58 Bonus Rewards which will make them free! Choose free curbside pickup to avoid shipping fees, otherwise, shipping is free on orders over $45.
Note that you need to be a Rewards Member in order to score this deal, so if you're not one, be sure to join (it's free!). You can choose between the AA and AAA, 16 and 24-packs, check them out here!
Note: Rewards are earned on the price paid for an item or service before tax and after deducting all discounts, the value of free gifts, and the value of any rewards and/or merchandise certificates/cards applied to that purchase. Using these discounts mentioned above you will lower your out of pocket price and the amount you receive back in rewards.
FREE Duracell Batteries After Rewards
Buy 2 Duracell AA Alkaline Batteries (24-pack) @$35.99/ea = $71.98
Use promo code 24532380 (20% off, x2/4)
Pay: $57.58
Get Back: $57.58 Bonus Rewards (limit 2)
Final Price: FREE
Buy 2 Duracell AAA Alkaline Batteries (24-pack) @$38.99/ea = $77.98
Use promo code 24532380 (20% off, x2/4)
Pay: $62.38
Get Back: $62.38 Bonus Rewards (limit 2)
Final Price: FREE
Buy 2 Duracell AAA Alkaline Batteries (16-pack) @$25.69/ea = $51.38
Use promo code 24532380 (20% off, x2/4)
Pay: $41.10
Get Back: $41.10 Bonus Rewards (limit 2)
Final Price: FREE
Buy 2 Duracell AA Alkaline Batteries (16-pack) @$25.69/ea = $51.38
Use promo code 24532380 (20% off, x2/4)
Pay: $41.10
Get Back: $41.10 Bonus Rewards (limit 2)
Final Price: FREE