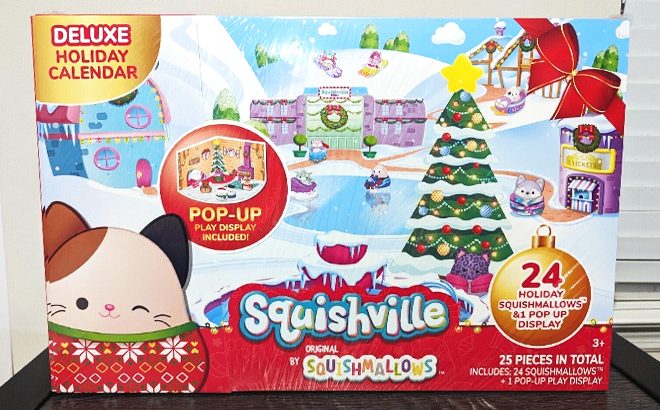 If you're planning to count down to the holidays with an Advent calendar this year, then consider getting The Squishville by The Original Squishmallows Holiday Calendar. This is one of the most sought-after toys this year! While clicking a button and buying it online is every parent's dream, it's actually easier said than done. You might be wondering would the Squishmallows Advent Calendar be in stock soon, and we are here to tell you that we predict one more restock this month!

We saw the Squishmallows Advent Calendar in stock in late September, and with Black Friday right around the corner and with many holiday deals already available, we are expecting Amazon to restock at least once more this month, probably right around Black Friday, November 24th. Also, it may be back in stock at Best Buy and Target for $64.99! For Target, if you see a lower price on Target's competitors, then you may do a price match.
These might also be available in Costco and Sam's Club in the next week or two. Feel free to bookmark this page and check back for updates, we'll surely alert you when it's in stock, and meanwhile, you can see below the other Squishmallow Sets available on Amazon.
Squishville by The Original Squishmallows
Squishville by The Original Squishmallows Holiday Calendar
(includes 24 2-inch Squishmallows)
JUST $64.99 + FREE Shipping
Consider These Squishmallows Deal Ideas Too
Squishville by The Original Squishmallows All-Star Squad
(includes 12 2-inch Squishmallows)
JUST $34.66 + FREE Shipping
Squishville by The Original Squishmallows Sweet Tooth Squad
(includes six 2-Inch Squishmallows)
JUST $15.99
Squishville by Original Squishmallows Beach Day Squad Plush (6-Pack)
(includes six 2-Inch Squishmallows)
JUST $16.13
Squishmallows Squishville Series 10 Mini Toy Plush (5 Pack)
JUST $27.99 + FREE Shipping