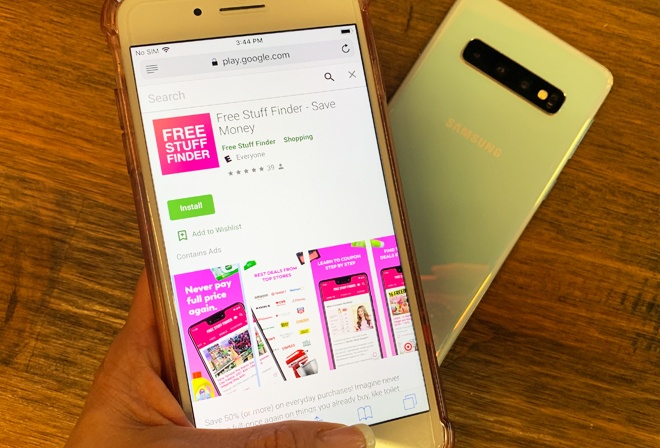 Hi Guys! OMG! I can't believe we did it!!! The Free Stuff Finder Android App is NOW LIVE! You can find it in the Google Play store. This is Version 1 of the app. The next version (which should be released around the end of November) will include the Community Features currently on iPhone app.
Since this is new, if you have any feedback on features you would like to see, or if you find something to be awkward in the current app. Do let me know from within the app (or comment on this blog post, or DM me on Instagram). I'm taking all feedback and suggestions, and bringing it back to the team to make future versions better, more user friendly and delightful.
How to Get the Android App:
Go to Free Stuff Finder Google Play page.
Sign into Google Play if you haven't already
Click Install button
Make sure to Turn on Notification to be notified of Hot Deal Alerts from the app!
Leave a Quick Review – If you've found any value from any of the content I've posted in the past, I would love it if you can help me with a quick review in the app store. Reviews is one way to let the app store know that this is a real app with helpful content used by real people.
How to Get the iPhone App:
If you missed my earlier announcement. Version 3.0 of the Free Stuff Finder iPhone App is now live also. If you are an existing user of the app, please Hit UPDATE in the app store here. See if you can spot the new features? ☺️
Go to Free Stuff Finder Apple App Store landing page
Click Install or Update
Click on "Community" tab. Post a picture of something you've purchased from a deal OR of a deal you spotted to be entered into the weekly $50 Gift Card Giveaway!
Leave a Quick Review – Again if you've found our deal content helpful, it would really help me out if you can leave a quick review in the app store. Thank you so much! 🙏
Sign Up to Text Alerts

In case you missed it, you can now also sign up for Free Text Alerts (And reach me via text if you have a question)! When there's an urgently hot deal, I'll occasionally send out texts. It takes a second to set up. You can now text me if you have questions. Follow theses steps:
① Text to the number 760-227-8151 with anything. Emoji is good.
② You'll get an automated message. Click on the link from this message so it'll add you to my Contacts and I can text you back
③ Let me know some stores and types of deals you are interested in. Or if you want to follow my personal Autism healing journey, type "Autism" for example. Okay! Chat with you in text!