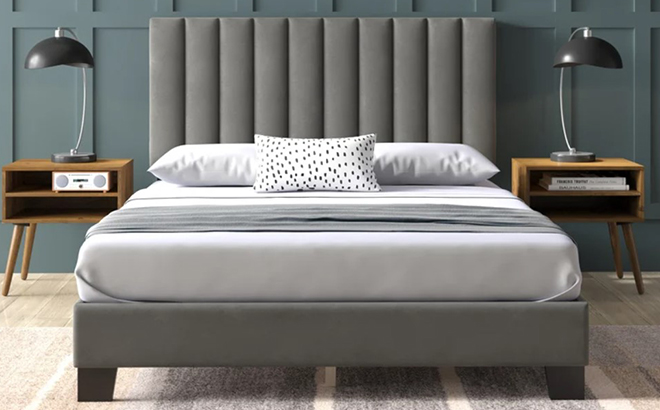 Through January 18th – Wayfair is hosting the Fresh Start Sale and offering up to 90% off furniture, bedding, rugs and so much more. They are also offering great deals on cookware and bakeware, lighting and small appliances! As a deal idea, save big on bedroom furniture including beds, dressers, headboards and more! Prices start at $78.99 (regularly $222), plus, snag an extra 10% off your order as a new customer when you subscribe to Wayfair emails and pay only $71.10 shipped! Check out some of the today's deals below!
Check out more Fresh Sale deals here!
Here's What To Do:
Click

 

here

 

to get your 10% off
Important: Enter your email address, and press submit (existing customers skip this step)
Check your email: the

 

10% off code

 

should be in your inbox (new customers)
Next, go

 

here

 

to access the Bedroom Furniture Sale and shop around
Use your personal promo code (from email) to save an additional 10%
Final Price: from only $71.10 shipped!
Bedroom Furniture Up to 80% Off
Tevrat 5-Drawers Dresser $185.99 (Reg $330)
Search for W002818720 or click here
Use custom 10% off promo code at checkout
ONLY $167.40 (Reg $330) + FREE Shipping
Delp Upholstered Bed – Full $129.99 (Reg $334)
Search for W005405309 or click here
Use custom 10% off promo code at checkout
ONLY $116.99 (Reg $334) + FREE Shipping
Adal Upholstered Bed – Queen $152.99 (Reg $522)
Search for W004803198 or click here
Use custom 10% off promo code at checkout
ONLY $137.70 (Reg $522) + FREE Shipping
Katheryn Manufactured Wood Armoire $369.99 (Reg $885)
Search for W004866270 or click here
Use custom 10% off promo code at checkout
ONLY $332.99 (Reg $885) + FREE Shipping
Gries 4-Drawer Dresser $265.99 (Reg $605)
Search for W004867273 or click here
Use custom 10% off promo code at checkout
ONLY $239.40 (Reg $605) + FREE Shipping
Mcglade End Table with Storage – Berry $102.99 (Reg $304)
Search for W004059635 or click here
Use custom 10% off promo code at checkout
ONLY $92.70 (Reg $304) + FREE Shipping
Casandra Upholstered Bed $144.65 (Reg $410)
Search for W003090287 or click here
Use custom 10% off promo code at checkout
ONLY $130.19 (Reg $410) + FREE Shipping
Grimaldo 4-Drawer Dresser $309.99 (Reg $755)
Search for W004866775 or click here
Use custom 10% off promo code at checkout
ONLY $278.99 (Reg $755) + FREE Shipping
Troye Upholstered Headboard $78.99 (Reg $222)
Search for W002935562 or click here
Use custom 10% off promo code at checkout
ONLY $71.10 (Reg $222) + FREE Shipping
Briaroaks Queen 3-Piece Bedroom Set $449.99 (Reg $800)
Search for W006469726 or click here
Use custom 10% off promo code at checkout
ONLY $404.99 (Reg $800) + FREE Shipping
Ryder Upholstered Bed – Twin $150.74 (Reg $555)
Search for W001879179 or click here
Use custom 10% off promo code at checkout
ONLY $135.67 (Reg $555) + FREE Shipping