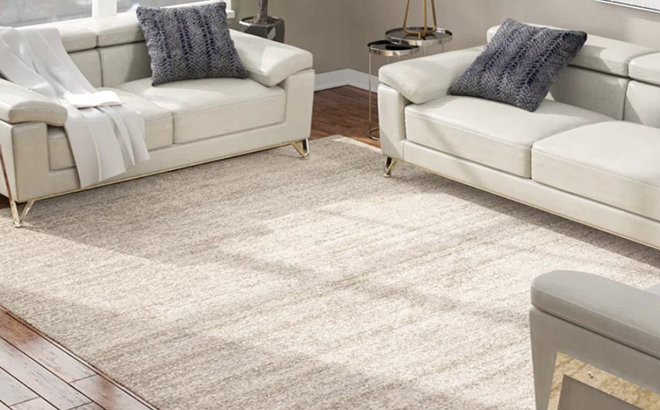 Through today (January 18th) – Wayfair is hosting the Fresh Start Sale and offering up to 90% off furniture, bedding, rugs and so much more. They are also offering great deals on cookware and bakeware, lighting and small appliances! Additionally, snag an extra 10% off your order as a new customer when you subscribe to Wayfair emails! Check out some of the today's deals below!
Here's What To Do:
Click

 

here

 

to get your 10% off
Important: Enter your email address, press submit (existing customers skip this step)
Check your email: the 10% off code should be in your inbox (new customers)
Next, go

 

here

 

to access the Fresh Start Sale and shop around
Use your personal promo code (from email) to save an additional 10%
Up to 80% Off Fresh Start Sale!
Area Rugs
Bridgeton Abstract Area Rug 6×9 $155.99 (Reg $935) 
Search for W005485780 or click here
Use custom 10% off promo code at checkout
ONLY $140.40 (Reg $935) + FREE Shipping
Bridgeton Abstract Area Rug $99.99 (Reg $439)
Search for VRKG6794 or click here
Use custom 10% off promo code at checkout
ONLY $89.99 (Reg $439) + FREE Shipping
Arendtsville Area Rug 5×8 $86.99 (Reg $198)
Search for W007993069 or click here
Use custom 10% off promo code at checkout
ONLY $78.30 (Reg $198) + FREE Shipping
Sofas & Sectionals
Serta Jameson Sleeper Futon Sofa $199.99 (Reg $400)
Search for STF1297 or click here
Use custom 10% off promo code at checkout
ONLY $179.99 (Reg $400) + FREE Shipping
Geo 2-Piece Upholstered Sectional – Beige $900 (Reg $2,100)
Search for W003529757 or click here
Use custom 10% off promo code at checkout
ONLY $810 (Reg $2,100) + FREE Shipping
Kitchen & Dining Furniture
Amarapal Solid Wood Dining Table $434.99 (Reg $725)
Search for W006543576 or click here
Use custom 10% off promo code at checkout
ONLY $391.50 (Reg $725) + FREE Shipping
Isabelle China Cabinet $424.99 (Reg $919)
Search for W006543678 or click here
Use custom 10% off promo code at checkout
ONLY $382.50 (Reg $919) + FREE Shipping
TV Stands & Living Room Tables
Lorraine TV Stand $143.99 (Reg $305)
Search for W001527559 or click here
Use custom 10% off promo code at checkout
ONLY $129.60 (Reg $305) + FREE Shipping
Ahart Frame Coffee Table $256.99 (Reg $519)
Search for W000745491 or click here
Use custom 10% off promo code at checkout
ONLY $231.30 (Reg $519) + FREE Shipping
Storage & Organization
Stainless Steel 13.2-Gallon Motion Sensor Trash Can $44.99 (Reg $85)
Search for YC1034 or click here
Use custom 10% off promo code at checkout
ONLY $40.50 (Reg $85) + FREE Shipping
3-Piece Wicker/Rattan Basket Set $29.12 (Reg $38)
Search for W006117147 or click here
Use custom 10% off promo code at checkout
ONLY $26.21 (Reg $38) + FREE Shipping
Bedroom Furniture
Bushwick Metal Platform Bed – Full $211.39 (Reg $380)
Search for NVGR1063 or click here
Use custom 10% off promo code at checkout
ONLY $190.26 (Reg $380) + FREE Shipping
Georgina 6 – Drawer Dresser $99.99 (Reg $123)
Search for W003176165 or click here
Use custom 10% off promo code at checkout
ONLY $89.99 (Reg $123) + FREE Shipping
Bedding
3-Piece Reversible Quilt Set – King $90.65 (Reg $250)
Search for W008703235 or click here
Use custom 10% off promo code at checkout
ONLY $81.59 (Reg $250) + FREE Shipping
Eddie Bauer 3-Piece Reversible Comforter Set – Queen $93.14 (Reg $300)
Search for W003263075 or click here
Use custom 10% off promo code at checkout
ONLY $83.83 (Reg $300) + FREE Shipping