Don't miss this amazing deal at Bath & Body Works! For today only (October 23rd), you can get two select holiday items for the price of one! This includes their popular 3-wick candles, which are normally $24.95. Just use the promo code GIFTING at checkout and pay only $12.47 per candle or $24.95 for both!
You can shop online or in-store. If you're shopping online, standard shipping is $6.99 on orders over $10, or opt for free store pickup if available in your area. Check out more deal ideas below!
*The image above is for illustrative purposes only. Not all the items shown are included in the sale.
Bath & Body Works 3-Wick Candles
Buy 2 Bath & Body Works 3-Wick Candles @$24.95/ea = $49.90
Use promo code GIFTING (Buy One Get One FREE, x10/23)
ONLY $12.47 each or $24.95 for both
Bath & Body Works Single Wick Candles
Buy 2 Bath & Body Works Single Wick Candles @$15.95/ea = $31.90
Use promo code GIFTING (Buy One Get One FREE, x10/23)
ONLY $7.97 each or $15.95 for both
Bath & Body Works Hand Soaps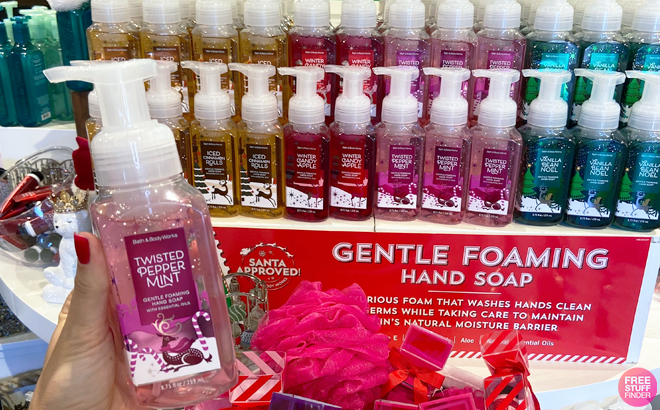 Buy 2 Bath & Body Works Hand Soaps @$7.95/ea = $15.90
Use promo code GIFTING (Buy One Get One FREE, x10/23)
ONLY $3.97 each or $7.95 for both
Bath & Body Works Wallflowers Fragrance Refills
Buy 2 Bath & Body Works Wallflowers Fragrance Refills @$7.95 = $15.90
Use promo code GIFTING (Buy One Get One FREE, x10/23)
ONLY $3.97 each or $7.95 for both
Bath & Body Works Gift Sets
Buy 2 Bath & Body Works Mini Box Sets @$18.95 = $37.90
Sign in Bath & Body Works Rewards Members (free to join)
Use promo code GIFTING (Buy One Get One FREE, x10/23)
ONLY $9.47 each or $18.95 for both
*for BBW Rewards members only
Buy Bath & Body Works Vanilla Bean Noel Gift Set $38.95
Buy Bath & Body Works Winter Candy Apple Gift Set $38.95
Subtotal: $77.90
Use promo code GIFTING (Buy One Get One FREE, x10/23)
ONLY $19.47 each or $38.95 for both