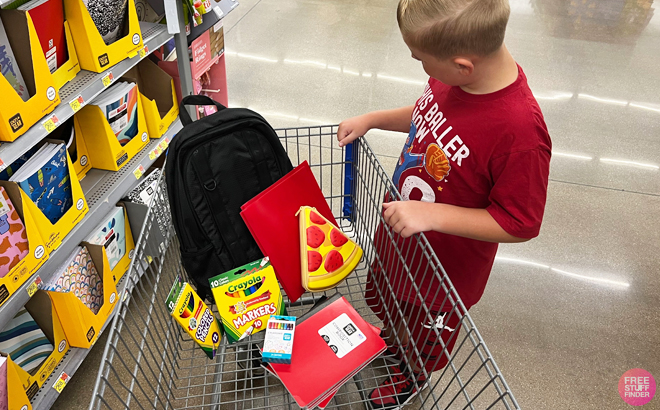 Walmart is already in full force for school prep! They are offering discounts on tons of school supplies, backpacks, lunch bags, and more. We spotted crayons, markers, notebooks, glue sticks for less than $1! Most of the deals are available both in-store and online. If shopping online, shipping is free for Walmart+ Members, or on orders over $35. Check out our finds below!
See more back-to-school deals here or score Wonder Nation Kids School Uniform for just $4.98!
Back to School at Walmart!
Pen+Gear 3-Prong Paper Folder
(multiple colors available)
ONLY 15¢ (Reg 38¢)
Pen+Gear Disappearing Purple School Glue Sticks (2-Pack)
ONLY 25¢ (Reg 74¢)
Elmer's Disappearing Purple Washable Glue Sticks (2-Pack)
ONLY 50¢ (Reg $1.37)
CraZArt Crayons (24-Count)
ONLY 40¢ (Reg 86¢)
Crayola Broad Line Markers (10-Count)
ONLY 97¢ (Reg $3)
Crayola Colored Pencils (12-Count)
ONLY 97¢ (Reg $2)
Pen+Gear Crayons (24-Count)
ONLY 25¢ (Reg 72¢)
Crayola Classic Crayons (24-Count)
ONLY 50¢ (Reg $2)
Pen+Gear Pencil Topper Erasers (25-Count)
ONLY 47¢ (Reg 58¢)
Reebok Unisex Adult Theo 19.5-Inch Laptop Backpack
(black color)
ONLY $31.44 (Reg $36)
BIC Ballpoint Pens (10-Pack)
(2 colors available)
ONLY $1.27 (Reg $7)
Pen+Gear 100-Page Composition Book
ONLY 50¢ (Reg 97¢)
Pen+Gear Erasers (2-Count)
ONLY 47¢ (Reg 62¢)
Pen+Gear 1-Subject Notebook
(many colors available)
ONLY 35¢ (Reg 94¢)

Pen+Gear 2-Pocket Poly Folder
(4 colors available)
ONLY 50¢ (Reg $1)
Arctic Zone Fold-Down Lunch Bag with Thermal Insulation
(multiple colors available)
ONLY $7.96
Elmer's Disappearing Purple School Glue Sticks (30-Count)
ONLY $8.62
Pen+Gears Washable School Glue
JUST 25¢ (Reg 64¢)