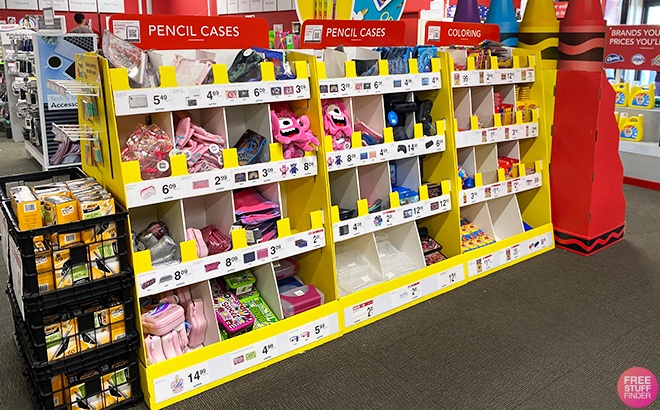 The next stop on our back-to-school quest is Office Depot! They have a great selection of school supplies and tons of classroom essentials! Plus, we spotted a deal on tablets too! Most of these are available online. If shopping online, shipping is free on orders over $45, or you can opt for free store pickup. Take a look at our deal finds below!
Also, through September 2nd, get an extra $10 off on your qualifying school supplies for $50+ purchases with the code BTS10 – available online or in-store.
For more options, check out more back-to-school deals here! or you can see more deal ideas from these individual stores:
Samsung Galaxy Tab
Samsung Galaxy Tab (32GB Storage)
ONLY $119.99 (Reg $160) + FREE Shipping
*online price (limit 5, x9/10)
Office Depot School Supplies!
Elmer's Washable School Glue (4 oz)
ONLY 50¢ (Reg $3)
*online price (limit 6, x9/16)
Elmer's Washable Disappearing Purple School Glue Sticks (6-Pack) + 2 bonus Sticks
ONLY $3.99 (Reg $6)
*online price (x9/30)
Cra-Z-Art Basic Crayons Assorted Colors (24-Counts)
ONLY $1.11 (Reg $2)
Crayola Broad Line Markers Assorted Classic Colors (10-Count)
ONLY $1.50 (Reg $4)
*online price (limit 6, x9/16)
Crayola Fine Line Markers Assorted Classic (10-Count)
ONLY $1.50 (Reg $4)
*online price (limit 6, x9/16)
Crayola Crayons Assorted Colors (24-Count)
ONLY 50¢ (Reg $3)
*online price ((limit 6, x9/16)
Fuel Deluxe Lunchbag And Backpack Set
(Black/Gray)
ONLY $14.92 (Reg $30)
Office Depot Brand Composition Notebook
ONLY 50¢ (Reg $4)
*online price (limit 12, x9/16)
Office Depot Brand Manual Pencil Sharpeners
ONLY 50¢ (Reg $2)
*online price (x9/16)
Office Depot Wood Pencils (12-Count)
ONLY 50¢ (Reg $4)
*online price (x9/16)

Office Depot Brand Large Beveled Erasers 3-Pack
ONLY $1.79 (Reg $3)
*online price (x9/16)
Office Depot Brand Index Cards 100-Count
ONLY 99¢ (Reg $2)
*online price (x9/16)
Check Out These Backpacks On Sale Too