Visit Amazon to take advantage of their "Prime Big Deal Days" through October 11th, where Prime Members can enjoy fantastic savings and convenience, as well as see a ton of great Amazon deals here! 
Moreover, you can now snag these Alexa-enabled smart speakers like Echo Dot and Echo Show for a great price. Check out the best Prime Day Echo deals that we have spotted, see them below. 
Check out more roundups on the Best Deals Today:
If you're not a Prime Member, it's a perfect time to start your FREE 30-day trial! You can always cancel after Prime Day if you decide not to keep it. Even sweeter, if you're a student, you can sign up now for FREE 6 months of Prime, plus, if you decide to keep it, you'll get 50% off on your membership!
Trade-In Old Amazon Devices (Save 25%)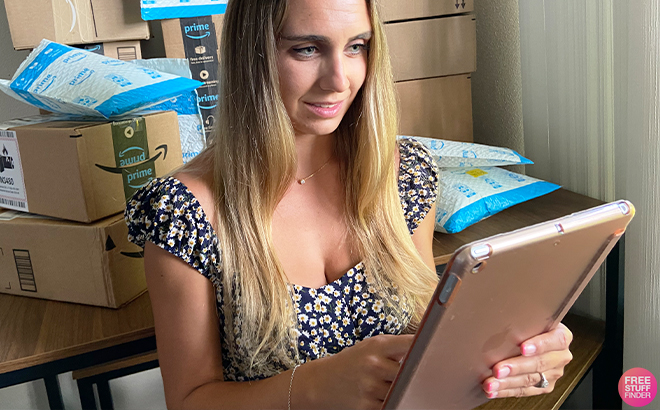 Don't forget about Amazon's Trade-In Program for electronics! Earn a ton of savings for new devices when you submit a device for trade-in and you'll receive gift card credit. Even better, you will get up to 25% off on your next Amazon device! Even select non-functioning items are accepted. Check out if your product is eligible, and how much credit you can get for it! For more info click here!
Prime Day Echo Show Deals
Echo Dot (5th Gen, 2022 Release)
(3 colors available)
ONLY $22.99 (Reg $50)
Echo Pop Smart Speaker
(4 colors available)
ONLY $17.99 (Reg $40)
Echo Buds True Wireless Bluetooth Earbuds (2023 Release)
(2 colors available)
ONLY $34.99 (Reg $50) + FREE Shipping
*price valid for Amazon Prime Members only
Echo Smart Speaker with Alexa (4th Gen)
(3 colors available)
ONLY $54.99 (Reg $100) + FREE Shipping
Echo Show 5 (3rd Gen) 2023 release 
(3 colors available)
ONLY $39.99 (Reg $90) + FREE Shipping
Echo Buds with ANC (2nd Gen, 2021 release)
(2 colors available)
ONLY $64.99 (Reg $120) + FREE Shipping
Echo Glow Multicolor Kids Lamp
ONLY $16.99 (Reg $30)
Echo Show 8 (2nd Gen, 2021 release)
(2 colors)
ONLY $59.99 (Reg $130) + FREE Shipping
Kids' Echo Dot (5th Gen, 2022 release)
(in Owl and Dragon)
ONLY $27.99 (Reg $60) + FREE Shipping
Echo Show 10 (3rd Gen) HD smart display with motion and Alexa
(2 colors)
ONLY $159.99 (Reg$ 250) + FREE Shipping
Echo Show 15 with Alexa and Fire TV
ONLY $184.98 (Reg $280) + FREE Shipping
Echo Studio Smart Speaker
(2 colors)
ONLY $154.99 (Reg $200) + FREE Shipping

Echo Auto (2nd Gen)
ONLY $34.99 (Reg $55) + FREE Shipping

Echo Dot (5th Gen) with Kasa Smart Plug Mini
ONLY $23.98 (Reg $73)

Echo Dot 5th Gen with Kasa Smart Plug Mini
(glacier white)
ONLY $23.98 (Reg $73)
Echo Dot 5th Gen Deep Sea Blue with Kasa Smart Plug Mini
(deep sea blue)
ONLY $23.98 (Reg $73)
Echo Pop with Sengled Smart Color Bulb 
(4 colors)
JUST $18.98 (Reg $55) + FREE Shipping