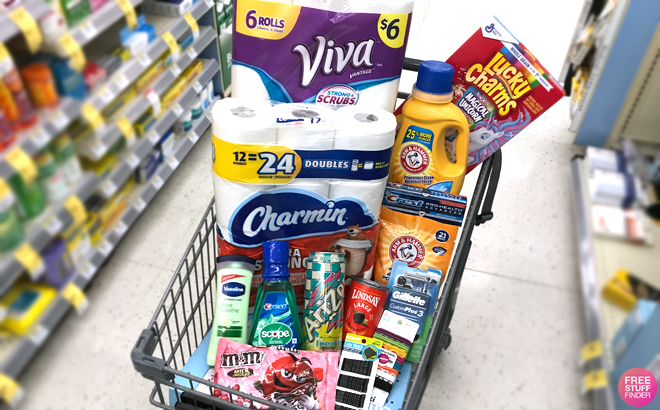 Deals start 11/27. Listed below are the best deals for the week of 11/27 – 12/3 at Walgreens. If you need to see the ad for week 11/27, click here. This preview will help you get coupons printed and clipped in advance.
Keep in mind some prices will vary per region, as do coupons. Get those coupons out and get ready to get some deals! All deals end on 12/3 unless otherwise noted.

Join Walgreens New Beauty Enthusiast Club and earn 5000 Balance Reward Points for every $50 spent on qualifying beauty purchases. You do not have to spend $50 in one trip to get the rewards. Every purchase will count towards the $50 threshold. These points will be in addition to points earned on Everyday Points or featured beauty products with bonus points. You must join to earn additional points. Click here to join now!
New to couponing at Walgreens?

Check out my Walgreens Beginner Tutorial here or watch this video below. If you are new to Couponing and wondering what are all these funny lingo, check out my Coupon 101 Tutorial. It's got everything you need to get started. Hope it helps. 🙂
Freebies

Deal: Get $3 Register Rewards for buying 2 Select Crest or Oral-B Dental Care
Deal Idea:
► Buy 2 Select Crest Toothpaste @$3/ea = $6 (sale price)
Use two $2/1 Crest Toothpaste (P&G 11/27, x12/10) – limit 2 = -$4
Pay: $2
Get Back: $3 Register Rewards for buying 2
Final Price: FREE
Almay Skin Perfecting Healthy Biome Makeup (1 oz) $4.49 (Reg $15)
(6 styles)
Use $5/1 Almay Face Cosmetic Product Digital Coupon (limit 1, x12/31) = -$5
(Walgreens coupons vary by user)
FREE + 51¢ moneymaker!
Personal Care

Deal: Get $5 Register Rewards for buying 2 Irish Spring or Softsoap Body Wash
Scenario 1:
► Buy 2 Irish Spring Body Wash @$4.99/ea = $9.98
Use two $0.75/1 Irish Spring Body Wash = -$1.50
Pay: $8.48
Get Back: $5 Register Rewards for buying 2
Final Price: $1.74 each or $3.48 for both
Scenario 2:
► Buy 2 Softsoap Body Wash @$4.99/ea = $9.98
Use two $0.75/1 Softsoap Body Wash 20 oz = -$1.50
Pay: $8.48
Get Back: $5 Register Rewards for buying 2
Final Price: $1.74 each or $3.48 for both

Deal: Get $5 Register Rewards for buying 2 Personal Care Products

Deal Idea:
► Buy 3 Crest Pro-Health Toothpaste @$4/ea = $12 (sale price)
Use two $2/1 Crest Toothpaste (P&G 11/27, x12/10) – limit 2 = -$4
Pay: $8
Get Back: $5 Register Rewards for buying 3
Submit for $0.25/1 Crest Pro-Health Toothpaste Ibotta Cash Back (limit 1)
(Ibotta offers & amounts can vary by account)
Final Price: 92¢ each or $2.75 for all three

Scenario 2:
► Buy 3 Pantene Shampoo or Conditioner@ 3 for $15 (sale price)
Use $3/3 Pantene Products including Gold Series and Truly Collections (P&G 11/27, x12/10) = -$3
Pay: $12
Get Back: $5 Register Rewards for buying 3
Final Price: $2.33 each or $7 for all three

Scenario 3:
► Buy 3 Select Gillette Men's Razor @$10/ea = $30
Use two $3/1 Gillette Razor or Refills (P&G 11/27, x12/10) – limit 2= -$6
Pay: $24
Get Back: $5 Register Rewards for buying 3
Final Price: $6.33 each or $19 for all three

Deal: Get $2 Register Rewards for buying 2 Colgate Dental Care

Deal Idea:
► Buy 2 Colgate Max Fresh Toothpaste (6 oz) @$2.99/ea = $5.98 (sale price)
Use two $0.75/1 Colgate Total, Colgate Optic White, or Colgate Max Fresh Toothpaste = -$1.50
Pay: $4.48
Get Back: $2 Register Rewards for buying 2
Final Price: $1.24 each or $2.48 for both

Deal: Get $4 Register Rewards for buying 2 Select Personal Care Items

Deal Idea:
► Buy 2 Colgate Toothpaste @$3.99/ea = $7.98 (sale price)
Use two $0.75/1 Colgate Total, Colgate Optic White, or Colgate Max Fresh Toothpaste = -$1.50
Pay: $6.48
Get Back: $4 Register Rewards for buying 2
Final Price: $1.24 each or $2.48 for both

► 40% Off No7 Skin Care or Cosmetic Gift Sets

Household

► Buy Air Wick Essentials Mist Starter Kit = $10.99 (sale price)
Use $5/1 Air Wick Essentials Mist Starter Kit Digital Coupon (x12/3) – limit 1 = -$5
(Walgreens coupons vary by user)
Pay: $5.99
Submit for $5/1 Air Wick Essentials Mist Starter Kits Ibotta Cash Back (limit 1)
(Ibotta offers & amounts can vary by account)
Final Price: 99¢ (Reg $17)

► $1.99 Arm & Hammer or Walgreens Household Products
► Buy Finish Dishwasher Detergent = $10.99 (sale price)
Use $1.50/1 Finish Automatic Dishwashing Detergent Digital Coupon (x12/17) – limit 1 = -$1.50
(Walgreens coupons vary by user)
Pay: $9.49
Submit for $1/1 Finish Power Detergent Ibotta Cash Back (limit 5)
(Ibotta offers & amounts can vary by account)
Final Price: $8.49 (Reg $15)

► Buy 2 Lysol Disinfecting Spray @ 2 for $14 (sale price)
Pay: $14
Submit for (x2) $1/1 Lysol Disinfecting Spray Ibotta Cash Back (limit 5)
(Ibotta offers & amounts can vary by account)
Final Price: $6 each or $12 for both

Food

► 4 for $3 Arizona Single-Serve Tea or Drink
► Buy 2 Select Planters Peanuts @ 2 for $6
Use $1.50/1 Planters Peanuts Products Digital Coupon (x12/14) – limit 1 = -$1.50
(Walgreens coupons vary by user)
Final Price: $2.25 each or $4.50 both
► 3 for $12.99 12-Pack Soft Drinks

► 2 for $4 Progresso Soup

► 3 for $13.99 12-Pack Coca-Cola or Dr. Pepper Products

► 2 for $7 8-Pack Polar Seltzer Water

► 2 for $2.78 Hershey's or Cadbury Single-Serve Candy

► 3 for $3 Trident or Dentyne Single Pack Gum
Baby

Deal: Get $5 Register Rewards for buying 3 Pampers or Ninjamas Jumbo Pack Diapers

Deal Idea:
► Buy 4 Ninjamas Bedwetting Underwear @2/$23 = $46 (sale price)
Use $3/2 Ninjamas Underwear Digital Coupon (x11/26) – limit 1 = -$3
And use $3/2 Ninjamas Underwear Digital Coupon (x11/26) – limit 1 = -$3
(Walgreens coupons vary by user)
Pay: $40
Get Back: $5 Register Rewards for buying 3
Final Price: $8.75 each or $35 for all four

Christmas

► 60% Off Photo Ornaments

► 2 for $5 Peppermint or Cherry Joybrite Candy Canes

► 2 for $6 Holiday Candy Canes
► Buy One Get One 50% Off Indoor or Outdoor Holiday Decorations
Others

► Buy 2 Select Foster Grant Reading Glasses @$18.99/ea = $37.98
Buy One Get One Free = -$18.99
Final Price: $9.49 each or $18.99 for both

► 50% Off Yankee Candles

► 50% Off 2-Pack Contigo Travel Mugs

► Buy One Get One Free W Alkaline Batteries

Medicine & Health

► Buy 2 Nature Made Super B Complex with Vitamin C and Folic Acid Tablets (60 ct) @$4.29/ea = $8.58
(online price)
Buy One Get One Free = -$4.29
Use $4/2 Nature Made Products Digital Coupon (x1/13) – limit 1 = -$4
(Walgreens coupons vary by user)
Final Price: 14¢ each or 29¢ for both

► Buy 2 Nature's Bounty Hair, Skin & Nails Gummies with Biotin @$7.49/ea = $14.98
(price may vary by store)
Buy One Get One Free = -$7.49
Use $2/1 Nature's Bounty Optimal Solutions Supplement (SV 11/6, x12/4) = -$2
(or $2/1 Nature's Bounty Vitamin or Supplement, SV 11/6, x12/4)
Final Price: $2.74 each or $5.49 for both

► Buy 2 Breathe Right Nasal Strips @$13.49/ea = $26.98
(online price)
Use $1.75/1 Breathe Right Nasal Strips Digital Coupon (x12/6) – limit 1 = -$1.75
And use $2/1 Breathe Right Nasal Strips (limit 1) = -$2
Pay: $23.23
Get Back: $5 Register Rewards for buying 2
Submit for (x2) $2.50/1 Breathe Right Ibotta Cash Back (limit 3)
(Ibotta offers & amounts can vary by account)
Final Price: $6.61 each or $13.23 for both

► Buy 2 Select Mucinex Tablets @$16.99/ea = $33.98
Use two $2/1 Mucinex Product = -$4
Pay: $29.98
Get Back: $5 Register Rewards for buying 2
Submit for (x2) $2/1 Mucinex Ibotta Cash Back (limit 3)
(Ibotta offers & amounts can vary by account)
Final Price: $10.49 each or $20.98 for both