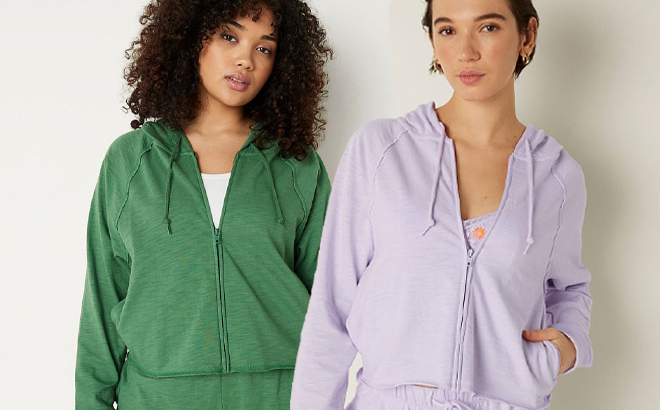 Through October 14th, go to Victoria's Secret and check out their big fall sale with 50% off. As a deal idea, this Summer Lounge Cotton Zip-Up Hoodie is now reduced down to $12.99, regularly sold for $34.95. On top of that, there's another 25% off automatically applied in cart, for a final price of just $9.74! Choose between four available colors.
Victoria's Secret Credit Cardholders and Victoria's Secret & PINK Rewards Program Members get free shipping on orders over $50. Snag your Victoria's Secret PINK hoodie now or see more options below!
Also, through October 23rd, you can score a free Victoria's Secret PINK mini dog with a $75+ purchase, when you use the promo code PINKDOG at checkout.
Victoria's Secret PINK Hoodies $9.74
Victoria's Secret PINK Summer Lounge Zip-Up Hoodie $12.99 (Reg $35)
(available in 4 colors)
Extra 25% off automatically applied at checkout (x10/14)
ONLY $9.74 (Reg $35)
More Victoria's Secret Deals Here
Victoria's' Secret PINK Seamless Hight-Waist Tights $9.99 (Reg $40)
(pure black marl color at this price)
Extra 25% off automatically applied at checkout (x10/14)
ONLY $7.49 (Reg $40)
*limited sizes
Victoria's Secret PINK Cotton Hight Waist Leggings $10.99 (Reg $45)
(available in 2 colors)
Extra 25% off automatically applied at checkout (x10/14)
ONLY $8.24 (Reg $45)
Victoria's Secret Essential Short Unitard $21.99 (Reg $50)
(available in 2 colors)
Extra 25% off automatically applied at checkout (x10/14)
ONLY $16.49 (Reg $50)
Victoria's Secret PINK Fleece Zip-Up Hoodie $24.99 (Reg $50)
(available in 5 colors)
Extra 25% off automatically applied at checkout (x10/14)
ONLY $18.74 (Reg $50)
Victoria's Secret PINK Panties $2.99 (Reg $11)
(various styles)
Extra 25% off automatically applied at checkout (x10/14)
ONLY $2.24 (Reg $11)
Victoria's Secret Panties $3.99 (Reg $15)
(various styles)
Extra 25% off automatically applied at checkout (x10/14)
ONLY $2.99 (Reg $15)