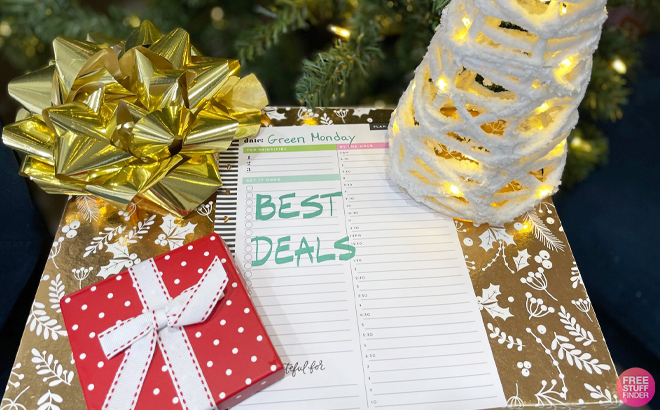 You've probably heard of Black Friday and Cyber Monday, but what about Green Monday? It's happening today, the third-biggest shopping event of the year. If you still have holiday shopping to do, then it's your last chance to score an awesome deal on gifts that will be there in time for the holidays! 🙌
What Is Green Monday?
Green Monday is the final shopping holiday of the year, and this year it falls on Monday, December 12th. It was started in 2007 by eBay, and every year since then it has been the most important shopping holiday in the month of December. Though not as big or as attractive as Black Friday and Cyber Monday, Green Monday is still worth paying attention to, because we will see great deals from retailers such as Amazon, Walmart, Target, JCPenney, Kohl's, and more!
What About Free Shipping Day?
We can't talk about Green Monday without mentioning Free Shipping Day! This year, it'll be happening on Wednesday, December 14th. In past years the vast majority of retailers were offering free shipping with a guarantee your package will be there in time for the holidays; in 2021 we saw lower than usual free shipping thresholds from major retailers. In 2022, Green Monday and Free Shipping Day will be happening only two days apart, so we should see a ton of awesome deals during that week!
Here's a fun fact for ya! Gingerbread House Day is a national holiday celebrated on December 12th, which coincides with Green Monday this year! Celebrate it by building a gingerbread house with the family!
If you're after this year's hottest tech, stunning fashion, or toys your kiddos will love, then this is another perfect time to shop and save big. Almost every store is offering incredible deals so we have rounded up our best finds from Target, Amazon, Belk, Hollister, and more! See the list below.
Best 20 Green Monday Deals
Buy Duke Cannon The Beard That Stole Christmas Gift Set $14.99
Buy Old Spice Fiji Holiday Hair Care Gift Set $9.99
Buy Schick Women's Hydro Silk Shave Gift Set $9.99
Buy Duke Cannon Winter Survival Tube Gift Set $14.99
Buy Vitamasques 6 Days of Holiday Glow Mask Advent Calendar $10
Sub-total: $59.96
Use 50% Off Beauty & Personal Care Gift Sets Circle Offer (limit 1, x12/16)
Pay: $29.98
Get Back: $10 Target Gift Card for spending $30 on select beauty items (x12/17)
ONLY $3.99 each or $19.98 for all five
*$18.95 for RedCard Holders
Belk Beauty Women's Fragrance Sampler 8-Piece Kit
(Carolina Herrera 1.5 ml, Christian Siriano 2 ml, Clinique Happy 1.5 ml, Juicy Couture Viva La Juicy 1.5 ml, Philosophy Amazing Grace 1.5 ml, Rebecca Minkoff 2 ml, Tous Love Me 1.5 ml, Versace Dylan Torquoise 1 ml and refillable atomizer)
ONLY $12.99 (Reg $20)

Tory Burch Women's Cross Espadrille Slide Sandals
(Black color)
ONLY $139 (Reg $278) + FREE Shipping
*limited sizes
Hollister Dark Wash Wrinkle Dad Jeans
ONLY $13.78 (Reg $60)
KISS imPRESS Press-On Manicure
ONLY $6.34 (Reg $9)
Disney Santa Mickey Mouse Mug
Use promo code FREESHIP at checkout (free shipping, x12/11)
JUST $16.09 (Reg $23) + FREE Shipping 
Disney Minnie Mouse Holiday Stocking
Use promo code FREESHIP at checkout (free shipping, x12/11)
JUST $17.49 (Reg $35) + FREE Shipping
Gain + Aroma Boost 45-Loads Laundry Detergent 2-Pack $14.10 (Reg $16)
Opt to Subscribe & Save (extra 5% off)
Clip $3 off coupon (under the price, S&S orders)
ONLY $10.39 (Reg $16)
*Just $5.20 each!
Michael Kors Mercer Extra-Small Pebbled Crossbody Bag
*available in 2 colors
Free Shipping for KORSVIP Members (free to join)
JUST $79 (Reg $348) + FREE Shipping
Shark Steam Mop
ONLY $39 (Reg $59) + FREE Shipping
Victoria's Secret Mini Mist & Lotion Duo
(available in four fragrances)
ONLY $9.97 (Reg $20)
Old Navy Women's Thermal Pajama Tees 2-Pack
(available in 5 colors)
ONLY $4 each or $8 for both (Reg $40)
*limited sizes
Ring Video Doorbell with Echo Show 5
(Satin Nickel or Venetian Bronze color)
ONLY $69.99 (Reg $185) + FREE Shipping
Buy 3 Tide Laundry Detergent 114-Loads @$12.74/ea = $38.22
(Daybreak Fresh)
Get $10 off for buying 3: -$10
Opt to Subscribe & Save for all (extra 5% off): -$1.91
ONLY $8.77 each (Reg $12.74) or $26.31 for all
*just 7¢ per load
Gold Silver Christmas Ornaments (70-Piece)$15.99 (Reg $54)
Use promo codeMAGIC30at checkout (extra 30% off, x12/15)
ONLY $11.19 (Reg $54)
Buy Mrs. Meyer's Hand Soap 3-Pack (Iowa Pine) = $14.97
Buy Mrs. Meyer's Hand Soap Refill 2-Pack 33 oz (Basil)= $17.18
(or Mrs. Meyer's Hand Soap Refill 2-Pack (Honeysuckle) = $20.98)
Sub-total: $32.15
Opt for Subscribe & Save (extra 5% off)
Spend $30 Save $10 = -$10
ONLY $10.27 each or $20.54 for both + FREE Shipping
($3.42 per Hand Soap and $5.13 per 33 oz Refill)
Buy 3 Under Armour Men's Joggers @$34.99/ea (Reg $55) = $104.97
Use promo code PZYUAUAR (x12/18)
JUST $14.66 each (Reg $55) or $43.98 for all three
H&M Disney Kids Boots
(available in 2 colors)
FREE Shipping Offer (x12/13)
JUST $24.99 + FREE Shipping
Packing Cubes 7-Piece Set
(available in 4 colors)
ONLY $19.99 (Reg $60)
Huggies Sensitive Baby Wipes Natural Care 528-Count $15.79 (Reg $17)
Clip the $3.16 digital coupon (under the price)
Opt for Subscribe & Save (extra 5% off)
ONLY $11.84 (Reg $17)