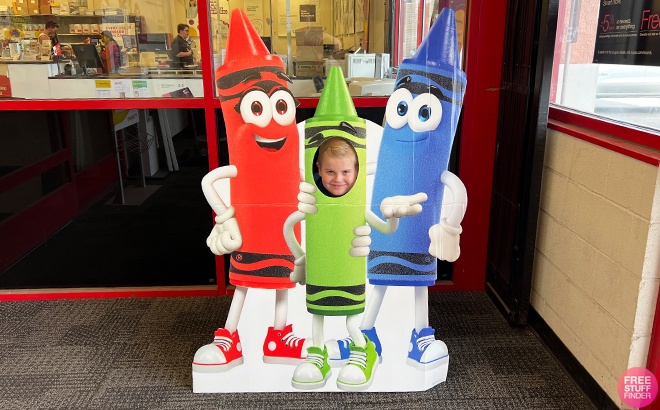 Want to get a head start on your back-to-school shopping? Staples are having an online sale on school supplies with nice discounts on a variety of items, including their brand items, with prices starting at just 50¢! Shipping is free on orders over $25+ or you can opt for free store pickup if available for you. Check out our deal ideas below or browse all supplies here!
See more back-to-school deals here, and also be sure to check out even more offers here!
School Supplies from Just 50¢ at Staples!
Staples Cap Eraser
ONLY 50¢ (Reg $1)
Staples Eraser
ONLY 50¢ (Reg $1)
Staples 12-Inch Ruler
ONLY 50¢ (Reg $5)
Staples School Permanent Glue (4 oz)
ONLY 40¢ (Reg $3)
Line Ruled 3″ x 5″ Index Cards (100-Pack)
ONLY $2.52 (Reg $24)
Kids Scissors (2-Pack)
ONLY 99¢ (Reg $2)
(online price)
Crayola Classic Markers (10-Count)
ONLY 99¢ (Reg $4)
Crayola Colored Pencils (12-Count)
ONLY 99¢ (Reg $4)
Staples Manual Pencil Sharpener
(assorted colors)
ONLY 50¢ (Reg $1)
Crayola Crayons (24-Count)
(assorted colors)
ONLY 50¢ (Reg $2)
Tru Red Pen Permanent Markers (12-Pack)
ONLY $2.30 (Reg $8)
Crayola Project Premium Construction Paper (50-Pack)
ONLY $4.13 (Reg $5)
Post-It Page Markers 1/2 x 2-Inch 500-Page Markers/Pack
ONLY $6.39
Staples Large Tab Insertable Paper Dividers 8 Tab Set
ONLY $2.17
Tru Red Tank Dry Erase Markers (4-Pack)
(Blue)
ONLY $4.90 (Reg $7)
Crayola Neon Crayons (8-Pack)
ONLY $2.39
Staples Correction Tape 2-Pack
(White)
ONLY $3.79 (Reg $5)