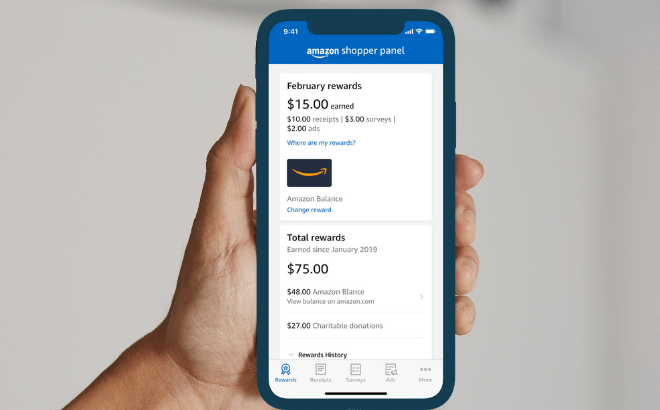 Join the Amazon Shopper Panel and earn $10 in Amazon Credits every month!
The Amazon Shopper Panel is an invitation-based program, where you can earn monthly Amazon credits by doing everyday tasks, such as sharing receipts from outside of Amazon, filling in short surveys, or enabling ad sharing for the ads. You will earn your base $10 in Amazon Credits by submitting 10 eligible receipts per month, and additional rewards for surveys or ad sharing.
A limited number of Amazon customers have already received invitation. If you are not among them, you can download the App Store or the Google Play Store app, and check if there is space available, or join the waitlist. Check out more details here!
*Thank you for the tip, CarolJ7 from our App Community!
📌 Psst... Download my app (iPhone or Android) for the easiest way to see the latest deals. Check out "Community" tab for other user-submitted deals like this. 😍
By the Way: Download my app (iPhone or Android) for the easiest way to browse and find the latest deals, including deal tips and hauls submitted from our community. Click on "Community" to check it out. 😍

Win a Free $50 Gift Card Every Week! If you have scored or spotted any great deals, make sure to post it in the Community Section to be entered to win a Free $50 Gift Card each week! You can also engage with any post to enter (Comment on other people's posts)!

What to Submit to the Community Section:

❤️ Your Shopping Haul – Deals you've done
❤️ Stuff You've Received – Deals you've received
❤️ Deal Tips – See a sale while you're out?
❤️ Clearance Tips – See a good clearance in stores?
❤️ Other Hot Deals or Freebies – Deals not posted before, if you happen to find something new, post it in the app. If I end up posting it on the blog, I'll credit you for it.