(Sale Starts 5/28 and ends 6/3). Listed below are the best Target weekly deals for the week of 5/28 – 6/3. Combine coupons, Circle and cash back offers along with your Target REDCard discount for great weekly savings.
You can still find current week's deals by scrolling down in this post.
New to couponing at Target? Check out our my Target 101 Video. 🙂
If you haven't already Click Here to Sign up to Target REDCard for Free (Debit or Credit Card) to Save an extra 5% on all your Target purchases. Plus, as a REDCard holder, you also get Free Shipping on all online orders. And you get extended returns – An extra 30 days to return stuff.
Freebies
► Buy 1 Gatsby Chocolate Bar = $4.69
(price may vary by store)
Pay: $4.69
Submit for $4.69/1 Gatsby Chocolate Bar Aisle Cash Back (limit 1)
Final Price: FREE

► Buy 1 Perfect Protein Bar = $3.49
Pay: $3.49
Submit for Perfect Bar 100% Paypal or Venmo Rebate (limit 1)
Final Price: FREE
► Buy 1 Core Bar = $2.19
Pay: $2.19
Submit for $2.19/1 Core Product Rebate (limit 1)
(Open from phone)
Final Price: FREE

► Buy 1 Swoon Lemonade (4 pk) = $6.99
Pay: $6.99
Submit for Swoon Lemonade (4 pk) 100% Venmo Rebate (limit 1)
Final Price: FREE
Personal Care
► Buy 1 Softsoap Blossoms Limited Edition Hand Soap (11.25 oz) = $2.49
(price may vary by store)
Pay: $2.49
Submit for $0.75/1 Softsoap Liquid Hand Soap Ibotta Cash Back (limit 5)
(Ibotta offers & amounts can vary by account)
And submit for $1.66/1 Softsoap Floral Breeze or Mint Cucumber Shopkick Rebate (400 for buying, 15 kicks for scanning)
(Shopkick offers may vary by account)
Final Price: 8¢ (Reg $3)

► Buy 1 Schick Skintimate Sensitive Skin Women's Disposable Razors (4 ct) = $6.79
(price may vary by store)
Use $4/1 Schick or Skintimate Disposable Razors (5/21, x6/10) = -$4
Pay: $2.79
Submit for $0.75/1 Skintimate Sensitive Skin Disposable Razors 4 ct Ibotta Cash Back (limit 3)
(Ibotta offers & amounts can vary by account)
Final Price: $2.04 (Reg $6.79)
► Buy 1 Schick Silk Razor Touch Up (3 ct) = $5.99
(price may vary by store)
Use $4/1 Schick or Skintimate Disposable Razor Pack Circle (x6/3) – limit 1 = -$4
Final Price: $1.99 (Reg $6)
Deal: Buy Four, Get $5 Target Gift Card
Select Personal Care Items
(Deal: Buy Four Select Personal Care Items, Get Back $5 Target Gift Card)
Deal Idea:
► Buy 1 Schick Intuition Women's Razor (1 ct) = $9.99
► Buy 1 Schick Hydro 5 Men's Disposable Razor (3 ct) = $8.99
► Buy 1 Dove Body Wash (20 oz) = $6.99
► Buy 1 Schick Silk Touch Up Razor (3 ct) = $5.99
(price may vary by store)
Sub-Total: $31.96
Use $4/1 Schick Women's Razor or Refill Circle (x6/3) – limit 1 = -$4
And use $4/1 Schick Disposable Razor Circle (x6/3) – limit 1 = -$4
And use $2/1 Dove Body Wash Circle (x5/30) – limit 1 = -$2
And use $4/1 Schick Hydro or Quattro Titanium Razor Circle (x6/3) – limit 1 = -$4
Pay: $17.96
Get Back: $5 Target Gift Card
Final Price: $3.24 each or $12.96 for all four
(Deal: Buy Four Select Personal Care Items, Get Back $5 Target Gift Card)
Deal Idea:
► Buy 4 Olay Body Wash (20 oz) @$9.49/ea = $37.96
(price may vary by store)
Pay: $37.96
Get Back: $5 Target Gift Card
Submit for (x4) $3/1 Olay Body Wash 20,26, or 30 oz or Hand & Body Lotion 17oz Ibotta Cash Back (limit 5)
(Ibotta offers & amounts can vary by account)
And submit for $5 Visa Card when you spend $20 on Select P&G Products (x6/30)
(threshold must be reached after all coupons and discounts have been applied)
Final Price: $3.99 each or $15.96 for all four
(Deal: Buy Four Select Personal Care Items, Get Back $5 Target Gift Card)
Deal Idea:
► Buy 1 Old Spice Old GentleMan's Blend Body Wash (17.9 oz) = $8.89
► Buy 1 Old Spice GentleMan's Blend Deodorant (3 oz) = $8.39
► Buy 1 Old Spice Swagger Dry Spray (4.3 oz) = $7.39
► Buy 1 Old Spice Aluminum Free Dry Spray (4.3 oz) = $7.39
(price may vary by store)
Sub-Total: $32.06
Use $0.50/1 Old Spice Deodorant or Body Wash Circle (x6/3) – limit 1 = -$0.50
And use $1.50/1 Old Spice GentleMan's Blend Deodorant or Body Wash Circle (x6/3) – limit 1 = -$1.50
Pay: $30.06
Get Back: $5 Target Gift Card
Submit for $5 Visa Card when you spend $20 on Select P&G Products (x6/30)
(threshold must be reached after all coupons and discounts have been applied)
Final Price: $5.02 each or $20.06 for all four
Deal: Buy Three, Get $5 Target Gift Card
Select Menstrual Care items

Household

► Buy 1 Lysol Laundry Sanitizer (41 oz) = $7.29
(price may vary by store)
Use $2/1 Lysol Sanitizer Product Circle (x6/3) – limit 1 = -$2
(or $2/1 Lysol Sanitizer 41 oz+)
Pay: $5.29
Submit for $2.50/1 Lysol Laundry Sanitizer 41 oz Ibotta Cash Back (limit 5)
(Ibotta offers & amounts can vary by account)
Final Price: $2.79 (Reg $7.29)

Deal: Buy Three, Get $10 Target Gift Card
Select Tide, Gain, Hefty, Swiffer, Febreze, Charmin, Bonce, Downy, Cascade, or Bounty Items
Deal Idea:
(Deal: Buy Three Select Tide, Gain, Hefty, Swiffer, Febreze, Charmin, Bonce, Downy, Cascade, or Bounty Items, Get Back $10 Target Gift Card)
► Buy 1 Tide Detergent (64 loads) = $12.99
► Buy 1 Tide Pods (42 ct) = $12.99
► Buy 1 Downy UnStoppables (13.4 oz) = $9.99
Sub-Total: $35.97
Use $3/1 Tide Detergent – limit 1 = -$3
(coupon expires one day after printing)
And use $3/1 Tide Pods – limit 1 = -$3
(coupon expires one day after printing)
And use $1/1 Downy Fabric Enhancer – limit 1 = -$1
(coupon expires one day after printing)
Pay: $28.97
Get Back: $10 Target Gift Card
Final Price: $6.32 each or $18.97 for all three
(Deal: Buy Three Select Tide, Gain, Hefty, Swiffer, Febreze, Charmin, Bonce, Downy, Cascade, or Bounty Items, Get Back $10 Target Gift Card)
Deal Idea:
► Buy 2 Air Wick Essential Mist Fragrance Starter Kit @$11.99/ea = $23.98
► Buy 1 Lysol Laundry Sanitizer (90 oz) = $13.49
(price may vary by store)
Sub-Total: $37.47
Use $5/1 Air Wick Essential Mist Fragrance Starter Kit Circle (x6/10) – limit 1 = -$5
And use $2/1 Lysol Sanitizer Product Circle (x6/3) – limit 1 = -$2
Pay: $30.47
Get Back: $10 Target Gift Card
Submit for $5/1 Air Wick Essential Mist Fragrance Starter Kit Coupons.com App Cash Back (x6/10)
Pay: $28.97
Get Back: $10 Target Gift Card
Final Price: $5.16 each or $15.47 for all three
Food

► Buy 1 Coffee Mate Plant Based Creamer (28 oz) = $4.59
(price may vary by store)
Pay: $4.59
Submit for $2/1 Coffee Mate Almond and Oat Plant Based Creamer 28 oz Only Ibotta Cash Back (limit 3)
(Ibotta offers & amounts can vary by account)
Final Price: $2.59 (Reg $4.59)

► Buy 2 Pipcorn Snacks (4.5 oz) @$4.29/ea = $8.58
(price may vary by store)
Pay: $8.58
Submit for $4.29/2 Pipcorn Snacks 4.5 oz Ibotta Cash Back (limit 1)
(Ibotta offers & amounts can vary by account)
Final Price: $2.15 each or $4.29 for both

► Buy 2 Sweet Nothing Squeezable Smoothies (6 ct) @$6.99/ea = $13.98
(price may vary by store)
Pay: $13.98
Submit for $6.99/2 Sweet Nothing Kids Squeezable Smoothies 6 ct Ibotta Cash Back (limit 1)
(Ibotta offers & amounts can vary by account)
Final Price: $3.50 each or $6.99 for both

► Buy 1 Wonderworks Keto Cereal (10.2 oz) = $8.49
(price may vary by store)
Pay: $8.49
Submit for $4.25/1 Wonderworks Keto Friendly Cereal Ibotta Cash Back (limit 1)
(Ibotta offers & amounts can vary by account)
Final Price: $4.24 (Reg $8.49)

► Tropicana 52-oz Orange Juice
ON SALE $3.49 (Reg $4.49)
► Select Kellogg's Cereal
ON SALE $3.69 (Reg $4.29)
► Good & Gather Packaged Grape Tomatoes
ON SALE $2.49 (Reg $3)
► Ball Park 8-ct Franks
ON SALE 2/$4 when you buy 2 (Reg $4.49 each)
► Kevin's Natural Foods Packaged Proteins
ON SALE $7.99 (Reg $10)
► Select Velveeta Macaroni and Cheese
ON SALE 3/$7.50 (Reg $3.69 each)
(Sunday & Monday Only)
► All 12-pk Soda
ON SALE 3/$15 when you buy 3 (Reg $7.49 each)
► Fresh 6-oz Organic Blueberries
ON SALE $2.49 (Reg $2.89)
► MUSH Ready-To-Eat 5-oz Oats Cups
ON SALE 3/$5 when you buy 3 (Reg $2 each)
► Plum Organics Jammy Sammy Baby Snacks
ON SALE 2/$6 (Reg $3.29 each)
► Chobani Single-Serve Greek Yogurt
ON SALE 5/$5 when you buy 5 (Reg $1.29 each)
► La Croix 8-pk Sparkling Water
ON SALE 3/$10 (Reg $4)
► Dunkin' Donuts 22-ct Single-Serve Coffee Pods
ON SALE $15.49/ea when you buy 2 (Reg $18 each)
Baby
Deal: Spend $100, Get $20 Target Gift Card
Select Diapers, Wipes, Training Pants, and Toiletries
Deal Idea:
(Deal: Spend $100 On Select Diapers, Wipes, Training Pants, and Toiletries, Get Back $20 Target Gift Card)
► Buy 2 Huggies Snug & Dry Diapers @$25.49/ea = $50.98
► Buy 1 Pampers Easy Ups Training Underwear = $28.49
► Buy 1 Pampers Ninjamas Training Underwear = $27.99
(price may vary by store)
Sub-Total: $107.46
Use $3/1 Pampers Ninjamas Training Pants Circle (limit 1) = -$3
And use $3/1 Pampers Easy Ups Training Underwear Circle (limit 1) = -$3
Pay: $101.46
Get Back: $20 Target Gift Card
Final Price: $20.37 each or $81.46 for all four
► Fisher-Price Kick & Play Deluxe Infant Seat
ON SALE $63.74 (Reg $75)

► Ingenuity ConvertMe 2-in-1 Compact Portable Baby Swing and Infant Seat
ON SALE $69.99 (Reg $80)
► Baby Trend Sit N' Stand Double Stroller
ON SALE $179.99 (Reg $200)
► Ingenuity Keep Cozy 3-in-1 Grow with Men Bouncer, Rocker, and Toddler Seat
ON SALE $49.99 (Reg $60)
► Baby Trend Expedition 2-in-1 Stroller Wagon
ON SALE $175.99 (Reg $220)

► Buy 1 Cetaphil Baby Wash & Shampoo (7.8 oz) = $6.29
(price may vary by store)
Use $4/1 Cetaphil Baby Product = -$4
Final Price: $2.29 (Reg $6.29)

Home & Kitchen

► Ello 24-oz Beacon Vacuum Stainless Steel Tumbler
ON SALE $14.99 (Reg $17)
► Kenmore 1.1-cu-ft Microwave
ON SALE $59.99 (Reg $90)
► PowerXl Vortex Pro8-qt Air Fryer
ON SALE $79.99 (Reg $130)
► Cuisinart Air Fryer Toasters Oven
ON SALE $129.99 (Reg $200)
► Mr. Coffee Stainless Steel 10-cup Programmable Coffee Maker
ON SALE $69.99 (Reg $80)
► Keurig K-Classic Single-Serve K-Cup Pod Coffee Maker
ON SALE $109.99 (Reg $140)
► Ninja 1000W Professional Blender
ON SALE $79.99 (Reg $100)
► Cuisinart 14-pc Stainless Steel Cookware Set
ON SALE $179.99 (Reg $220)
► Shark Rocket Ultra-Light Corded Stick Vacuum
ON SALE $169.99 (Reg $200)
► Dyson Ball Animal 3 Extra Upright Vacuum
ON SALE $299.99 (Reg $500)
► Dyson TP01 Pure Cool Tower Air Purifier and Fan
ON SALE $299.99 (Reg $400)
Apparel & Electronics
► VIZIO 50" Class M6 Series 4K QLED HDR Smart TV
ON SALE $369.99 (Reg $400)
► JBL Xtreme 3 Portable Bluetooth Waterproof Speaker
ON SALE $279.99 (Reg $380)
► Acer 14" Touchscreen Convertible Laptop
ON SALE $449.99 (Reg $700)
► AirPods Pro (2nd Generation)
ON SALE $199.99 (Reg $250)
(Starting Friday)
► God of War Ragnarok PS5 Video Game
ON SALE $49.99 (Reg $70)
(Starting Friday)
► MLB The Show 23 PS5 Video Game
ON SALE $49.99 (Reg $70)
(available Friday)
► Super Mega Baseball 4 Nintendo Switch Video Game
Only $49.99
► Sony PlayStation 5 Console
Only $499.99
30% Off Isabel Maternity by Ingrid & Isabel & Belly Bandit Target Circle (x6/3)
20% Off Little Planet by Carter's Organic Cotton Baby Clothing
Medicine & Health
Deal: Buy Two, Get $5 Target Gift Card
Select Allergy Relief Items
Deal: Buy Three, Get Free Target Exclusive First Aid Kit Bag
Select First Aid Products
Deal Idea:
(Deal: Buy Three Select First Aid Products, Get Back $5 Target Gift Card)
► Buy 3 BandAid Johnson & Johnson Cushion Gauze (10 ct) @$1.79/ea = $5.37
Final Price: $1.79 each or $5.37 for all three + Free Target Exclusive First Aid Bag
Pets
Deal: Buy Two, Get $5 Target Gift Card
Select Temptations, Iams, Kindfull, Nutro, Beggin' Strips, or Rachael Ray Pet Care Items
10% Off All Flea & Tick Care for Dogs and Cats Target Circle (x6/3)
Toys
► Disney Little Mermaid Toys and Fashion Pack
Starting at $19.99
► All Bunch O Balloons Water Activities
Buy Three Get One Free
Others
► Igloo Latitude 60-qt Roller Cooler
ON SALE $49.99 (Reg $60)
Freebies & Deals from Current Week (5/21 – 5/27)
Freebies
► Buy 1 Perfect Protein Bar = $3.49
Pay: $3.49
Submit for Perfect Bar 100% Paypal or Venmo Rebate (limit 1)
Final Price: FREE
► Buy 1 Core Bar = $2.19
Pay: $2.19
Submit for $2.19/1 Core Product Rebate (limit 1)
(Open from phone)
Final Price: FREE

► Buy 1 Swoon Lemonade (4 pk) = $6.99
Pay: $6.99
Submit for Swoon Lemonade (4 pk) 100% Venmo Rebate (limit 1)
Final Price: FREE
Household
► Buy 1 Febreze Air Effects Air Freshener = $3.29
(price may vary by store)
Use $2.30/1 Febreze Air Effects Air Care Circle (x5/27) – limit 1 = -$2.30
Final Price: 99¢ (Reg $3.29)

► Buy 1 9 Element Dish Soap = $4.69
(price may vary by store)
Use $3/1 9 Elements Dish Care Circle (x5/27) – limit 1 = -$3
Final Price: $1.69 (Reg $4.69)

► Buy Lysol Laundry Sanitizer (41 oz) = $7.29
(price may vary by store)
Use $2/1 Lysol Circle Offer (limit 1, x6/3) = -$2
(or use $2/1 Lysol 41 oz or Larger Printable Coupon.com Printable Coupon)
Pay: $5.29
Submit for: $2.50/1 Lysol Laundry Sanitizer 41 oz Ibotta Cashback (limit 5)
(Ibotta offers & amounts can vary by account)
Final Price: $2.79 (Reg $7.29)
► Buy 2 Lysol Laundry Sanitizer (90 oz) @$7.29/ea = $26.98
(price may vary by store)
Use $2/1 Lysol Circle Offer (limit 1, x6/3) = -$2
And use $2/1 Lysol 41 oz or Larger Printable Coupon.com Printable Coupon) = -$2
Pay: $22.98
Submit for (x2): $3/1 Lysol Laundry Sanitizer 90 oz Ibotta Cashback (limit 5)
(Ibotta offers & amounts can vary by account)
Get Back: $5 Target Gift Card for buying 2 (x5/27)
Final Price: $5.99 or $11.98 for both
► Buy 9 Elements Laundry Detergents (92 oz) = $15.99
Use 30% off 9 Elements Laundry Detergent Circle (x5/27) = -$4.80
And use $3/1 9 Elements Laundry Care Circle (x5/27) = -$3
Final Price: $8.19 (Reg $16)
► Buy 9 Elements Laundry Detergents (65 oz) = $13.39
(Lavender scent)
Use30% off 9 Elements Laundry Detergent Circle(x5/27) = -$4.02
And use$3/1 9 Elements Laundry Care Circle(x5/27) = -$3
Final Price: $6.37 (Reg $13.39)
► Buy STEM Fruit Fly Trap (5.4 oz) = $5.59
Use $3.50 off one STEM Insect & Pest Repellant Care (x5/27) = -$3.50
Pay: $2.09
Submit for: $2/1 STEM Brand Products Ibotta Cashback (limit 3)
(Ibotta offers & amounts can vary by account)
Final Price: 9¢ (Reg $5.59)
Deal: Buy Two, Get $5 Target Gift Card
Select Tide, Gain, Downy, Bounce, Air Wick, Seventh Generation, or Swiffer Items
(Deal: Buy Two Select Tide, Gain, Downy, Bounce, Air Wick, Seventh Generation, or Swiffer Items, Get Back $5 Target Gift Card)
Deal Idea:
► Buy 3 Downy UnStoppables (13.4 oz) @$9.99/ea = $29.97
Use $1/1 Downy Fabric Enhancer – limit 1 = -$1
(coupon expires one day after printing)
Pay: $28.97
Get Back: $5 Target Gift Card
Submit for $5 Visa Card when you spend $20 on Select P&G Products (x6/30)
(threshold must be reached after all coupons and discounts have been applied)
Final Price: $6.32 each or $18.97 for all three

(Deal: Buy Two Select Tide, Gain, Downy, Bounce, Air Wick, Seventh Generation, or Swiffer Items, Get Back $5 Target Gift Card)
Deal Idea:
► Buy 2 9 Elements Laundry Detergents (92 loads) @$15.99/ea = $31.98
Use 30% Off 9 Elements Laundry Detergent Circle (x5/27) = -$8.10
Pay: $23.88
Get Back: $5 Target Gift Card
Final Price: $9.44 each or $18.88 for both
(Deal: Buy Two Select Tide, Gain, Downy, Bounce, Air Wick, Seventh Generation, or Swiffer Items, Get Back $5 Target Gift Card)
Deal Idea:
► Buy 1 Tide Detergent (80 loads) = $15.99
► Buy 1 Tide Pods (57 ct) = $15.99
Sub-Total: $31.98
Use $3/1 Tide Detergent – limit 1 = -$3
(coupon expires one day after printing)
And use $3/1 Tide Pods – limit 1 = -$3
(coupon expires one day after printing)
Pay: $25.98
Get Back: $5 Target Gift Card
Final Price: $10.49 each or $20.98 for both

Deal: Buy Two, Get $5 Target Gift Card
Select Household Products
(Deal: Buy Two Select Household Products, Get Back $5 Target Gift Card)
Deal Idea:
► Buy 2 Air Wick Essential Mist Fragrance Starter Kit @$11.99/ea = $23.98
(price may vary by store)
Use $5/1 Air Wick Essential Mist Fragrance Starter Kit Circle (x6/10) – limit 1 = -$5
Pay: $18.98
Get Back: $5 Target Gift Card
Submit for $5/1 Air Wick Essential Mist Fragrance Starter Kit Coupons.com App Cash Back (x6/10)
Final Price: $4.49 each or $8.98 for both
► Buy 2 Finish Powerball Quantum Dishwasher Tablets (22 ct) @$7.49/ea = $14.98
(price may vary by store)
Use two $1.50/1 Finish Powerball Product = -$3
Pay: $11.98
Submit for $7/2 Finish Powerball Products Ibotta Cash Back (limit 1)
(Ibotta offers & amounts can vary by account)
Final Price: $2.49 each or $4.98 for both
► Buy 2 Persil Odor Fighter Liquid Laundry Detergent (50 Loads) @$13.99/ea = $27.98
(price may vary by store)
Pay: $27.98
Submit for (x2): $2/1 Persil Laundry Detergent Ibotta Cashback (limit 5)
(Ibotta offers & amounts can vary by account)
Get Back: $5 Target Gift Card for buying 2 (x5/27)
Final Price: $9.49 each or $18.98 for both
► Buy 1 Persil Odor Fighter Liquid Laundry Detergent (50 Loads) = @$13.99
► Buy 1 Persil Discs Laundry Detergent Pacs Original (40 ct) = @$13.99
(price may vary by store)
Sub-Total: $27.98
Pay: $27.98
Submit for (x2): $2/1 Persil Laundry Detergent Ibotta Cashback (limit 5)
(Ibotta offers & amounts can vary by account)
Get Back: $5 Target Gift Card for buying 2 (x5/27)
Final Price: $9.49 each or $18.98 for both
Personal Care
► Buy 1 BIC Easy Rinse Women's Disposable Razors (2 ct) = $7.29
(price may vary by store)
Use $2/1 BIC Easy Rinse Women's Disposable Razor = -$2
Pay: $5.29
Submit for $5/1 BIC Easy Rinse Disposable Razors 2 ct Only Ibotta Cash Back (limit 1)
(Ibotta offers & amounts can vary by account)
Final Price: 29¢ (Reg $7.29)
► Buy 2 Revlon Colorstay Eye Shadow Palette @$5.99/ea = $11.98
(price may vary by store)
Pay: $11.98
Submit for $7.96/2 Revlon Eye Cosmetics Ibotta Cash Back (limit 1)
(Ibotta offers & amounts can vary by account)
Final Price: $2.01 each or $4.02 for both
► Buy 1 Schick Skintimate Sensitive Skin Women's Disposable Razors (4 ct) = $6.79
(price may vary by store)
Use $4/1 Schick or Skintimate Disposable Razors (5/21, x6/10) = -$4
Pay: $2.79
Submit for $0.75/1 Skintimate Sensitive Skin Disposable Razors 4 ct Ibotta Cash Back (limit 3)
(Ibotta offers & amounts can vary by account)
Final Price: $2.04 (Reg $6.79)
► Buy Covergirl Easy Breezy Fill + Define Brow Pencil Set = $4.49
Use $4/1 Covergirl Target Circle (limit 1, x6/3) = -$4
(or $4/1 Covergirl Eye Product (SS 5/21, x6/3))
Final Price: 49¢ (Reg $4.49)
► Buy Covergirl Perfect Blend Eyeliner Pencil = $4.59
Use $4/1 Covergirl Target Circle (limit 1, x6/3) = -$4
(or $4/1 Covergirl Eye Product (SS 5/21, x6/3))
Final Price: 59¢ (Reg $4.59)
Deal: Spend $20, Get $5 Target Gift Card
Select Sun Care
(Deal: Spend $20 On Select Sun Care, Get Back $5 Target Gift Card)
Deal Idea:
► Buy 2 Coppertone Sport 30 SPF Sunscreen Spray (7.3 oz) @$10.89/ea = $21.78
(online price)
Use $5/2 Coppertone Products 4 oz+ or Face Products (SV 5/7, x6/6) = -$5
Pay: $16.78
Get Back: $5 Target Gift Card
Final Price: $5.89 each or $11.78 for both
(Deal: Spend $20 On Select Sun Care, Get Back $5 Target Gift Card)
Deal Idea:
► Buy Banana Boat Sport Ultra Sunscreen Spray (6 oz) = $10.49
► Buy Hawaiian Tropic Dark Tanning Lotion Sunscreen (8 oz) = $9.99
(online price)
Sub-Total: $20.48
Use $2/1 Banana Boat Sun Care Product Circle (x6/3) – limit 1 = -$2
And use $2/1 Hawaiian Tropic Sun Care Product Circle (x6/3) – limit 1 = -$2
Pay: $16.48
Get Back: $5 Target Gift Card
Final Price: $5.74 each or $11.48 for both
Deal: Buy Four, Get $5 Target Gift Card
Select Hair Care Items
(Deal: Buy Four Select Hair Care Items, Get Back $5 Target Gift Card)
Deal Idea:
► Buy 4 Purezero Hair Care @$5.99/ea = $23.96
(price may vary by store)
Use $4/1 Purezero Product Circle (x5/27) – limit 1 = -$4
And use $3/1 Purezero Product Circle (x5/26) – limit 1 = -$3
Pay: $16.96
Get Back: $5 Target Gift Card
Final Price: $2.99 each or $11.96 for all four
(Deal: Buy Four Select Hair Care Items, Get Back $5 Target Gift Card)
Deal Idea:
► Buy 1 Nexxus Clean & Pure Nourishing Detox Shampoo (13.5 oz) = $15.99
► Buy 2 OGX Biotin & Collagen Extra Strength Volumizing Shampoo (13 oz) @$7.89/ea = $15.78
► Buy 1 Herbal Essences Jojoba Oil Renew Shampoo (13.5 oz) = $6.99
Sub-Total: $38.76
Use $4/1 Nexxus Product Circle (x5/30) – limit 1 = -$4
And use $1.50/1 OGX Hair Care Product Circle (x6/22) – limit 1 = -$1.50
Pay: $33.26
Get Back: $5 Target Gift Card
Final Price: $7.07 each or $28.26 for all four
Food
► Buy 1 Coffee Mate Plant Based Creamer (28 oz) = $4.59
(price may vary by store)
Pay: $4.59
Submit for $2/1 Coffee Mate Almond and Oat Plant Based Creamer 28 oz Only Ibotta Cash Back (limit 3)
(Ibotta offers & amounts can vary by account)
Final Price: $2.59 (Reg $4.59)

► Buy 1 Annie's Spidey Shapes Cheddar Mac and Cheese (6 oz) = $1.59
(price may vary by store)
Use 20% Off Annie's Spidey Shapes Nat Mac Box Circle (x5/27) = -$0.32
Pay: $1.27
Submit for $0.50/1 Annie's Mac & Cheese Ibotta Cash Back (limit 5)
(Ibotta offers & amounts can vary by account)
Final Price: 77¢ (Reg $1.59)
► Buy 2 Pipcorn Snacks (4.5 oz) @$4.29/ea = $8.58
(price may vary by store)
Pay: $8.58
Submit for $4.29/2 Pipcorn Snacks 4.5 oz Ibotta Cash Back (limit 1)
(Ibotta offers & amounts can vary by account)
Final Price: $2.15 each or $4.29 for both

► Buy 2 Sweet Nothing Squeezable Smoothies (6 ct) @$6.99/ea = $13.98
(price may vary by store)
Pay: $13.98
Submit for $6.99/2 Sweet Nothing Kids Squeezable Smoothies 6 ct Ibotta Cash Back (limit 1)
(Ibotta offers & amounts can vary by account)
Final Price: $3.50 each or $6.99 for both

Buy Wonderworks Keto Cereal (10.2 oz) $8.49
Use 30% Off Wonderworks Keto Cereal Circle (x5/27)
Pay: $5.94
Submit for: $4.25/1 Wonderworks Keto Friendly Cereal Ibotta Cashback (limit 1)
(Ibotta offers & amounts can vary by account)
ONLY $1.69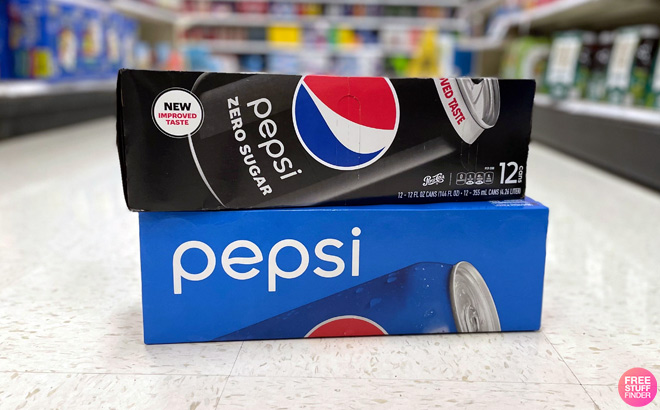 (online deal)
► Buy 3 Pepsi Soda 12-Packs @$7.19/ea = $21.57
(or Mountain Dew 12-Packs)
(or Starry Soda 12-Packs)
3 for $15 applied at checkout (in-store pickup)
Use 25% off Pepsi, Mountain Dew, and Starry 12-Pack Circle Offer (x5/28)
ONLY $3.75 each or $11.25 for all
► Mini Watermelon
ON SALE $3.49 (Reg $4.59)
► Bush's 28-oz Baked Beans
ON SALE $1.99 (Reg $2.69)
► Fresh 1-lb Strawberries
ON SALE $2.79 (Reg $3.69)
► Yoplait Single-Serve Yogurt
ON SALE 5/$3 when you buy 5 (Reg $0.75 each)
► Oscar Mayer Original Uncured 10-ct Hot Dogs
ON SALE 2/$5 when you buy 2 (Reg $3 each)
► Good & Gather 3-lb Frozen Beef Patties
ON SALE $12.99 (Reg $15.79)
► Johnsonville Fresh Brats
ON SALE 2/$9 when you buy 2 (Reg $5.59 each)
► Select SeaPak Frozen Butterfly Shrimp
ON SALE $8.99 (Reg $10.89)
► Fresh Sweet Corn 4-ct Tray Pack
ON SALE $3.49 (Reg $4.29)
► Select Good & Gather Frozen Veggies
Only 95¢
► Select Lay's Chips
ON SALE $2/$5 (Reg $4.29 each)
► Select Pringles Chips
ON SALE 3/$6 when you buy 3 (Reg $2.49 each)
► Select Kraft Barbecue Sauce
ON SALE $1.49 (Reg $1.79)
► Honey Maid Graham Crackers
ON SALE 2/$8 when you buy 2 (Reg $4.59 each)
► Select Hershey's 6-ct Candy
ON SALE $4.99 (Reg $6.49)
► Kraft Jet-Puffed 12-oz Marshmallows
ON SALE $1.49 (Reg $1.89)
► Favorite Day 10-ct Frosted Sugar Cookies
ON SALE $3.99 (Reg $4.49)
► Outshine 5-6 ct Frozen Fruit Bars
ON SALE $3.79 (Reg $5)
► All 12-pk Soda
ON SALE 3/$15 when you buy 3 (Reg $7.49 each)
► Simply 52-oz Ades
ON SALE 2/$5 when you buy 2 (Reg $2.79 each)
► Select Crystal Light Water Enhancer Drops
ON SALE 3/$7.50 when you buy 3 (Reg $3.39 each)
► Gatorade 12-pk Sports Drinks
ON SALE $6.99 (Reg $7.79)
► Lipton 12-pk Tea
ON SALE $5.99 (Reg $7.49)
► Dunkin' Donuts 22-ct Single-Serve Coffee Pods
ON SALE $15.49/ea when you buy 2 (Reg $18 each)
► Bubly 8-pk Sparkling Water
ON SALE 3/$11 when you buy 3 (Reg $4.29 each)
► Good & Gather 12 oz Ground Coffee
ON SALE $5.99/ea when you buy 2 (Reg $7 each)
► BuyDave's Killer Bread Buns (16 oz)= $6.99
Use 15% off Dave's Killer Bread Buns Target Circle Offer (x6/3) = -$1.05
Pay: $5.94
Submit for: $1.50/1 Dave's Killer Bread Burger Buns Ibotta Cash Back (limit 5)
(Ibotta offers & amounts can vary by account)
Final Price: $4.44 (Reg $7)
(Order Pickup or Same Day Delivery only)
► Buy 2 Starbucks Medium Roast Ground Coffee Spring Day Blend @$9.99/ea = $19.98
($7.99 price each when you buy 2 Starbucks coffee, x6/3)
Use the 20% off Starbucks Spring Day Blend Coffee Circle Offer (x6/3)
Final Price: $6.39 each or $12.78 for both
Baby
► Buy 1 Cetaphil Baby Wash & Shampoo (7.8 oz) = $6.29
(price may vary by store)
Use $4/1 Cetaphil Baby Product = -$4
Final Price: $2.29 (Reg $6.29)
► Baby Trend Lil Snooze Deluxe 2 Nursery Center
ON SALE $76.49 (Reg $90)
► Baby Trend Deluxe 2 Nursery Center Portable Playard
ON SALE $110.49 (Reg $150)
20% Off The Honest Company Baby Toiletries Target Circle (x5/27)
Deal: Buy Two, Get $15 Target Gift Card
Select Enormous Pack Diapers
Deal Idea:
(Deal: Buy Two Select Enormous Pack Diapers, Get Back $15 Target Gift Card)
► Buy 1 Pampers Swaddlers (120 ct) = $45.99
► Buy 1 Pampers Cruisers 360 Diapers (70 ct) = $45.99
(price may vary by store)
Sub-Total: $91.98
Use $3/1 Pampers Diapers Circle (x5/27) – limit 1 = -$3
And use $3/1 Pampers Cruisers 360 Diapers Circle (x5/27) – limit 1 = -$3
Pay: $85.98
Get Back: $15 Target Gift Card
Final Price: $35.49 each or $70.98 for both
Apparel & Electronics
► Apple Watch SE (2nd Generation)
Starting at $219.99 (Reg $250)
► Apple Watch Series 8
Starting at $329.99 (Reg $400)
(available 5/26-5/29)
► Apple Watch Ultra
Starting at $799.99
► Altec Lansing HydraBlast Bluetooth Speaker
ON SALE $69.99 (Reg $100)
► Samsung Galaxy A7 Lite 8.7" Tablet with 32GB Storage
ON SALE $129.99 (Reg $160)
► HP 27" Full HD IPS Computer Monitor with AMD FreeSync
ON SALE $149.99 (Reg $270)
► HP 14" Chromebook Laptop
ON SALE $269.99 (Reg $320)
► Heyday Bluetooth Soundbar
ON SALE $39.99 (Reg $60)
► Westinghouse 50" 4K UHD LED Roku Smart TV
ON SALE $259.99 (Reg $280)
► Hisense 65" 4K UHD Smart Google TV
ON SALE $399.99 (Reg $420)
► Select Video Games
Starting at $19.99
Home & Kitchen
► BISSELL Little Green Pet Pro Portable Carpet Cleaner
ON SALE $144.99 (Reg $165)
► BISSELL CleanView Allergen Pet Lift-Off Upright Vacuum
ON SALE $186.99 (Reg $237)
► BISSELL CrossWave Pet Pro Multi-Surface Wet Dry Vacuum
ON SALE $269.99 (Reg $330)
► Whirlpool 3.1-cu-ft Stainless Steel Mini Refrigerator
ON SALE $159.99 (Reg $220)
► Gourmia 9-Slice Air Fryer Oven with 14 One-Touch Functions & Auto French Doors
ON SALE $119.99 (Reg $150)
► Rachael Ray Cook + Create 11-pc Aluminum Nonstick Cookware Set
ON SALE $112.99 ($160)
► Select by Calphalon with AquaShield Nonstick 8" & 10" Fry Pan Combo Pack
ON SALE $34.99 (Reg $43)
► Koji Ice Shaver
ON SALE $24.99 (Reg $30)
► Rubbermaid 20-pc TakeAlongs Meal Prep Divided Rectangle Containers Set
ON SALE $8.99 (Reg $11)
Medicine & Health
Deal: Buy Two, Get $5 Target Gift Card
Select Digestive Health Items
Deal: Buy Two, Get $5 Target Gift Card
Select Sleep Aid Items
Pets
Deal: Buy Two, Get $5 Target Gift Card
Select Pet Care Items
► Buy 1 Temptations Meaty Mixups Cat Treats (1.5 oz) = $2.79
Pay: $2.79
Submit for $1/1 Temptations Treats Ibotta Cash Back (limit 1)
(Ibotta offers & amounts can vary by account)
Final Price: $1.79 (Reg $2.79)
Toys
► Perfectly Cute 14" My Sweet Baby Dolls
Only $9.99
► Baby Alive Sweet 'N Snugglier Baby Dolls
Only $14.99
10% Off Select Electric Ride-Ons, Skateboards, & Roller Skates
Others
► Igloo Flip and Tow 90-qt Roller Cooler
ON SALE $99.99 (Reg $120)
► Select Miracle-Gro Items
ON SALE 2/$8 when you buy 2 (Reg $5.79 each)
(4/30 – 5/27)
$40/$40 Future Purchase when Approved for a Credit or Debit RedCard