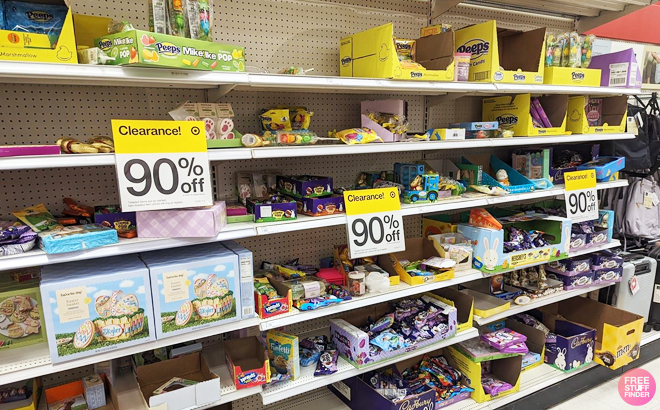 Head over to your local Target where their Easter Clearance has hit 90% off! These include Easter chocolates and Easter stuff, if you're lucky you might find an item that does not look Easter at a low price! Please note that clearance prices are available in-store only, and may vary by location. See some of the items below that we found last week at 90%, 50%, and 30% off!
Before going to the store, check Brickseek and see if this item is on clearance near you! Type in your zip code along with the item's DPCI to check. Inventory checkers aren't always accurate, but it's a good starting point.
Thanks for the tip disneymomdeals from Instagram Community!

📌 Psst... Download my app (iPhone or Android) for the easiest way to see the latest deals. Check out "Community" tab for other user-submitted deals like this. 😍
We Found These Last Week at 90%, 50% and 30% Off Easter Clearance
► Spritz 12-Piece Plastic Easter Eggs
(clearance price)
ONLY 50¢ (Reg $1)

► Disney Baby Minnie Mouse On-The-Go Activity Toy
(clearance price)
ONLY $1.29 (Reg $13)
► Disney Baby Mickey Mouse On-The-Go Activity Toy
(clearance price)
ONLY $1.29 (Reg $13)
► Spritz Glitter Color Easter Cups
(clearance price)
ONLY $1.50 (Reg $3)
► Spritz Color Whirl Easter Egg Decorating Kit
(clearance price)
ONLY $1.50 (Reg $3)

► Spritz Easter Baskets
(clearance price)
ONLY $1.50 (Reg $3)
► Spritz Animal Character Easter Baskets
(clearance price)
ONLY $2.50 (Reg $5)
► Threshold Decorative Bunny Figurine
(clearance price)
ONLY $5 (Reg $10)
► Threshold Decorative Vase Fillers
(clearance price)
ONLY $6 (Reg $12)
► Easter Decorative Garland
(clearance price)
ONLY $6 (Reg $12)
► Easter Pillow
(clearance price)
ONLY $7.50 (Reg $15)
► Threshold Easter Wreath
(clearance price)
ONLY $7.50 (Reg $15)

► Spritz Easter Egg Wreath
(clearance price)
ONLY $7.50 (Reg $15)

► Easter Bunny Throw Pillows
(clearance price)
ONLY $10 (Reg $20)
► The EggMazing Egg Spinner Decorator
(clearance price)
ONLY $11.24 (Reg $22.49)

► Favorite Day Milk Chocolates
(clearance price)
ONLY $2.79 (Reg $4)
► Favorite Day Key Lime White Chocolate
(clearance price)
ONLY $2.30 (Reg $3.29)
► Favorite Day Chocolate Chip Shortbread
(clearance price)
ONLY $2.30 (Reg $3.29)
► Favorite Day Carrot Cake Trail Mix
(clearance price)
ONLY $3.14 (Reg $4.49)

► Favorite Day Spring Beehive Cookie Kit
(clearance price)
ONLY $7.49 (Reg $15)
► Favorite Day Bunny Ears Pre-Built Cookie House Kit
(clearance price)
ONLY $7.49 (Reg $15)
► Candy and Ball Easter Basket Set
(clearance price)
ONLY $13.99 (Reg $20)