We have chosen the best freebies for St. Patrick's Day for you. Free beverages, snacks, delightful treats, and much more are available. Get free offers to help you celebrate this holiday, and see what else we have chosen for you below. Enjoy!
FREE Saintly Sips at Applebee's
Visit your neighborhood Applebee's Bar & Grill for a limited time to enjoy Saintly Sips for only $6 in celebration of St. Patrick's Day! For a limited time only, choose from the Tipsy Leprechaun or the Captain Morgan Pot O' Gold Colada at this special St. Patrick's Day discount pricing. A traditional pina colada mixed with Captain Morgan rum and mango is called the Pot O' Gold Colada. Keep in mind that certain alcoholic beverages are only offered when dining in (unless carryout drinks are available in your state).
Lucky Jameson Margarita at Chilli's $6
The Lucky Jameson Margarita is Chili's Margarita of the Month for March 2023 and was created in honor of St. Patrick's Day. Jameson Irish Whiskey, Triple Sec, Lunazul Blanco Tequila, and fresh sour are the main ingredients. Location-specific pricing may apply, but most Chili's locations will be offering it for only $6!
FREE Krispy Kreme Green Doughnut!
On March 16 and 17, anyone who visits Krispy Kreme while wearing green will get a Free Glazed Green Doughnut (no purchase necessary)! This promotion is accessible at the drive-thru, in-store, or for pick-up. Please note that there is a limit of one free doughnut per guest per day! Find the nearest Krispy Kreme shop here!
FREE Avocado on Your Potbelly Order
Anyone ordering online or through the Potbelly App from March 17 through March 19 can use the promo code AVOCADO to enjoy a free avocado on an entrée. To take advantage of this promotion, you do not need to be a Perks member, but it is only available online or through the Android or iOS Potbelly App.
Corned Beef Sliders and Tots $6 at STK
Lil' Corned Beef Slider and Tots at STK are only $6, regularly priced at $24 for two sliders, during Happy Hour from Monday, March 13th through Friday, March 17th from 3:00pm to 6:30pm,! During happy hour, you can also sample STK's Leprechaun Stiletto drink for just $9, regularly priced at $21.
Lucky Charms
The original Lucky Charms exemplify St. Patrick's Day! If you already have these common goods in your pantry, you might be able to celebrate without leaving your house. Start a fun and simple tradition by having the kids help you make these three-ingredient Lucky Charms marshmallow treats!
7-Eleven St. Patrick's Offer
At eligible 7-Eleven and Speedway locations, as well as when you place an order through the 7NOW App, you may receive $2 off 12-packs of hard seltzers. St. Patrick's Day is the only day that this offer is valid.
Baked by Melissa St. Patrick's Offer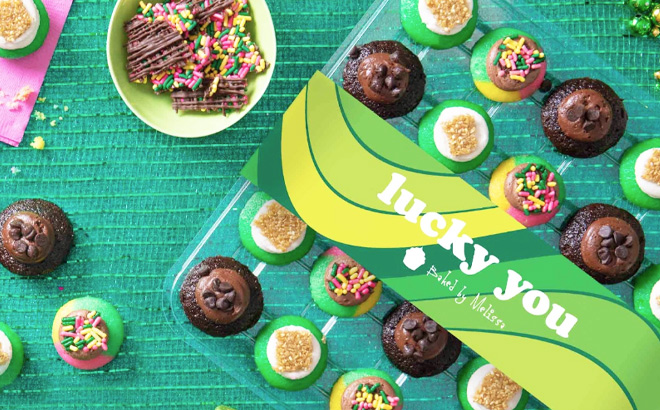 Use the promo code LUCKY10 at checkout to receive 10% off the Shamrock Shuffle 50-pack, regularly priced at $70 and the Lucky Us 100-pack, regularly priced at $135 of cupcakes from Baked by Melissa until March 20.
Jamba Juice
All reward members of Jamba Juice are eligible for BOGO 50% off of all green smoothies. This discount, which is only good for St. Patrick's Day, will be automatically sent to rewards accounts on March 17.
KFC St. Patrick's Day Discount
For St. Patrick's Day, KFC is offering a discount of 33.3% on an 8-piece chicken bucket, which is normally priced at $14.99, for just $10. This offer is only valid on one item per order, and it is not valid for deliveries made by third parties.
Choco-o-Mint Complete Cookie
Use the discount code MINTY20 at checkout to receive 20% off the Boss! The immunity bar and the Choco-o-Mint Complete Cookie from Lenny and Larry's site through March 19. The only place to get this bargain is online.
Zaxby's Rewards Members Offer
On St. Patrick's Day, Zaxby's Rewards Members who spend $15 or more via the the app (IOS or Android) will receive Chicken Bacon Ranch Loaded Fries, regularly priced at $7.99.
Mint Brownie Blizzard at Dairy Queen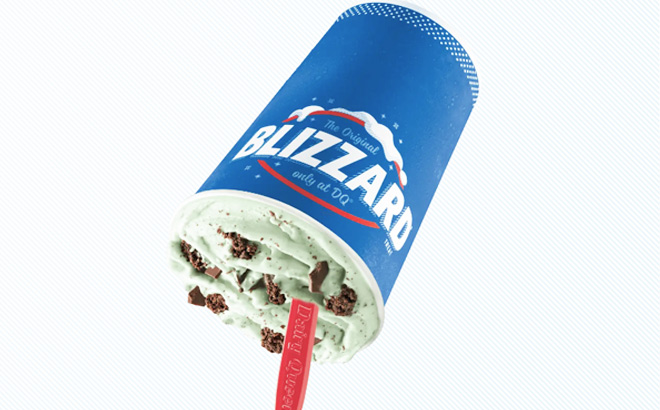 Dairy Queen promotes its Mint Brownie Blizzard in March, which contains mint ice cream, brownie bits, and chocolate chunks. Depending on size, blizzard pricing can range from $3.69 to $6.49.
Jack in The Box
The Mint Shake, a traditional Oreo Cookie Shake with mint syrup flavoring, was created by Jack In The Box in partnership with Ryan Reynolds and Mint Mobile. From February 25 to April 2, you can get this beverage at participating locations. Depending on the size, this beverage will run you $4.89 to $5.29.
McDonald's St. Patrick's Offer
The McDonald's Shamrock Shake, a mint vanilla shake with a green tint, is a seasonal offering from McDonald's. It's the ideal beverage to enjoy throughout the St. Patrick's Day season. The Shamrock McFlurry, which blends mint syrup, vanilla ice cream, and Oreo bits, was also brought back.