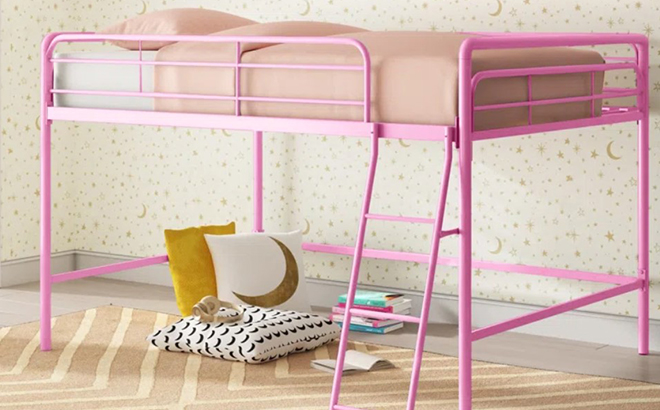 Through February 9th – Wayfair is hosting their Big Furniture Sale and offering great deals on furniture, rugs, decor items, mattresses and more! As just one idea, save big on kids bedroom furniture including bunk beds, dressers and more, now marked at up to 80% off! Prices start at $129.99 (regularly $487), plus, snag an extra 10% off your order as a new customer when you subscribe to Wayfair emails and pay only $116.99! Check out some of the today's deals below!
Browse more The Big Furniture Sale deals here!
Here's What To Do:
Click

 

here

 

to get your 10% off
Important: Enter your email address, and press submit (existing customers skip this step)
Check your email: the

 

10% off code

 

should be in your inbox (new customers)
Next, go

 

here

 

to access the Kids Bedroom sale and shop around
Use your personal promo code (from email) to save an additional 10%
Final Price: from only $116.99 shipped!
Kids Bedroom Furniture Up to 80% Off!
Forman Contemporary Kids Recliner $129.99 (Reg $487)
Search for W005999348 or click here
Use custom 10% off promo code at checkout
ONLY $116.99 (Reg $487) + FREE Shipping
Adora Full Loft Bed $185.99 (Reg $428)
Search for W004461736 or click here
Use custom 10% off promo code at checkout
ONLY $167.40 (Reg $428) + FREE Shipping
Essex 4-Drawer Dresser $149.99 (Reg $300)
Search for W006881528 or click here
Use custom 10% off promo code at checkout
ONLY $134.99 (Reg $300) + FREE Shipping
Brodey Twin Solid Wood Platforms Bed $139.99 (Reg $320)
Search for W005930144 or click here
Use custom 10% off promo code at checkout
ONLY $125.99 (Reg $320) + FREE Shipping
Preece Triple/Quad Bunk Bed $389.99 (Reg $754)
Search for W005485715 or click here
Use custom 10% off promo code at checkout
ONLY $350.99 (Reg $754) + FREE Shipping
Mitcheldean Platform Bed $183.99 (Reg $362)
Search for W001686708 or click here
Use custom 10% off promo code at checkout
ONLY $165.60 (Reg $362) + FREE Shipping
Elita Full Platforms Loft Bed $449.99 (Reg $1,345)
Search for W006637238 or click here
Use custom 10% off promo code at checkout
ONLY $404.99 (Reg $1,345) + FREE Shipping
Monarch Hill Poppy 3-Drawer Dresser $175.57 (Reg $497)
Search for LTSE1045 or click here
Use custom 10% off promo code at checkout
ONLY $158.02 (Reg $497) + FREE Shipping
Fergerson Twin Solid Wood Bunk Bed $369.99 (Reg $925)
Search for W005357894 or click here
Use custom 10% off promo code at checkout
ONLY $332.99 (Reg $925) + FREE Shipping
Kids Desk with Hutch and Chair Set $146.99 (Reg $220)
Search for KK3086 or click here
Use custom 10% off promo code at checkout
ONLY $132.30 (Reg $220) + FREE Shipping
Hubble 6-Drawer Double Dresser $365.99 (Reg $938)
Search for W005166011 or click here
Use custom 10% off promo code at checkout
ONLY $329.40 (Reg $938) + FREE Shipping