Did you know you can return your unwanted Amazon purchases at your local Kohl's stores? All 1,100+ Kohl's locations accept Amazon returns (excluding Anchorage, Alaska). Most importanly, Kohl's will process your Amazon return without any fee! In addition, you may also earn Kohl's Cash or coupons for doing so! It's very easy, scroll down to see the steps and learn everything you need to know.
How To Make Amazon Returns At Kohl's
When you head to your Kohl's store for your return, you don't need to bring a box or print a shipping label. Kohl's will pack your items, label them, and ship them, absolutely free. In order to start your return, you would need to get a QR code from Amazon. You can choose to print the QR code or use your smartphone to present the code at the Kohl's store. As a result, you will get a $5 Kohl's Cash or 25% off coupon for making an Amazon return at Kohl's. This coupon is good for one-time use and it must be used within a week.
Steps to Make Amazon Returns at Kohl's
Go to Amazon's Online Return Center to request a return (App or Website)
Select the Kohl's Dropoff option
(Go to 'My Orders' and choose 'Return or Replace Items', next click on Reason for Return, and finally, Select 'Kohl's Dropoff')
Get a QR code from Amazon (you will get it in your email)
Bring the item you're returning to a participating Kohl's store and show the QR code on your smartphone (Kohl's typically processes Amazon returns in their customer service department)
Kohl's will pack, label and ship your return for free
Easy! Plus, you may also earn Kohl's Cash or a coupon (up to 25% off)
Please note that you can also stack up to four of these coupons in one transaction, and this is inclusive of the $5 Kohls Cash and 25% off coupon.
What Amazon Returns Can You Do at Kohl's Drop Off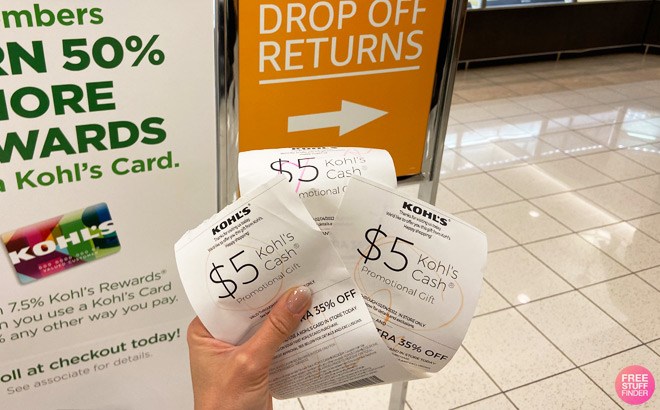 Certain items may not be eligible for return (like items sold by third-party sellers). However, in the majority of cases, Amazon will take back most new and unopened items that were sold and fulfilled by Amazon within 30 days of delivery. Make sure to check your Amazon return options to see if you are eligible.
Amazon gifts are eligible for return as well, as long as you have the order number. However, refund options may vary depending on the way the gift was purchased. You will receive your return within two to three weeks. If you're in a hurry, you can also get a refund by requesting an Amazon gift card which only takes two to three hours.
Since Kohl's stores are open from 9 AM to 10 PM, you can make Amazon returns whenever is convenient for you.
Have you made Amazon returns at Kohl's yet? How was your experience? Leave a comment to share your thoughts!
Check out more Online Deals Here.