Hey Guys! Alright! Here is the LAST Black Friday party for 2020. Join me Today- ALL DAY (Monday, 11/30) for the last round of Deals and Giveaway with the arrival of Cyber Monday!
I hope you will be able to cross out everyone on your list with Cyber Monday! Again, BEST time to shop is early (as new deals drop) to get first dibs when new sales are released, and you'll have a chance to score before they sell out. We will be posting new deals ALL Night!
⏰ Set your alarms! Party Starts at 8am PST until 5pm PST.
NOTE: It's a good idea to get the App Downloaded (or Updated) and Your Profile created ahead of time. We ran into issues with too many people doing this at the same time during the last party
Save this page and Check back for new giveaway updates. I'll be adding more new Giveaway prizes.
You coming? Let me know in the comments below some items you are looking for this Black Friday season?
This is the most EPIC week for deals all year! Many of us will be done (or close to being done) with Christmas shopping by the end of the week! Buckle Up! It's gonna be a Fun few days!
Mark Your Calendars:
 

✏️

Black Friday Party Times for This Week!
Wednesday Night (11/25) – 9pm until 2am PST
Friday ALL DAY (11/27) – 4am until 5pm PST
Sunday Night (11/29) – 10pm until 2am PST
Monday ALL DAY (11/30) – 8am until 5pm PST
Need a Reminder?
 

⏰

Sign up for Text Alerts – Don't miss a Run Deal! Sign up to Text Alerts. I don't send text alerts very often. But for this week, I'll be sending out reminders and when major stores go live for Black Friday. You can sign up here or follow the steps below. It's free for you and you can opt out at any point.

It takes a second to set up. Follow theses steps:
① Text to the number 760-227-8151 with anything. Emoji is good.
② You'll get an automated message. Click on the link from this message so it'll add you to my Contacts and I can text you back
③ Let me know some stores and types of deals you are interested in. Or if you want to follow my personal Autism healing journey, type "Autism" for example. Okay! Chat with you in text!
Giveaway #1: Gift Cards in App $5-$50
During the Giveaway Party Times (Schedule above), I will be randomly selecting winners from within the app to win Amazon Gift Cards of various amounts between $5-$50!
Make sure to Update your FSF App to the latest version.
To Enter:
Get the FSF

iPhone App

 

OR

Android App
Login or Create a User Profile – Make sure to add a picture (Try to do this ahead of time to avoid not being able to do this during the party due to traffic)
Turn on Notifications – So it'll alert you if you win
Browse thru deals from the app during the Giveaway Party times
When you see a deal you like, comment on that deal post.

Genuine comments only. Please do not comment on every post.

 

 

Just leave a comment on deals you are interested in.
You can comment with feedback on a product that you already own
You can also reply on other people's comments.

I will be randomly picking winners and sending them Amazon Gift cards.
To Claim:
I will reply to your comment if you are a winner.
I will also email you.
Giveaway #2: Instagram Giveaway
Nintendo Switch Giveaway is Now LIVE! YAY! I'm Giving Away a Free Nintendo Switch on Instagram. Just engage with any post on my main Instagram between 11/26 and 12/2 to be entered. Winner will be announced on 12/3.
Reminder to check my IG stories regularly for various prizes each week.
What would you love to win? Let me know in the comments below. I need ideas. If there are other fun prizes you would like to win, let me know.
To Enter:
Follow my main Instagram account at

 

@FreeStuffFinder

 

and Backup account at

 

@FreeStuffFinderDeals
LIKE & Comment on any IG Posts between 11/26 and 12/2
Winner Announced 12/3 on IG Stories
Keep an eye out in my IG Stories for new Giveaways
Giveaway #3: Easter Egg Hunt ️‍♀️
Besides the Giveaways on Instagram and my App… just to make it fun  … I'll be randomly putting Amazon Gift Card Codes inside random deal posts during these party times. I will be going back to older posts at random times to plant them. They are between $1 and $5 Gift Card codes. First person claims gets it.
If you claim a Gift Card code, please leave a comment on the post that it's been claimed!  Oh and please don't be upset if you don't find one. It's just for fun and laughs. The main point is to have some side fun while browsing thru all the sweet deals we will be able to score during these two days.
If you have the mobile app. You can easily browse through the deals and see if you might catch one.
Giveaway #4: Community $50 Gift Card Giveaway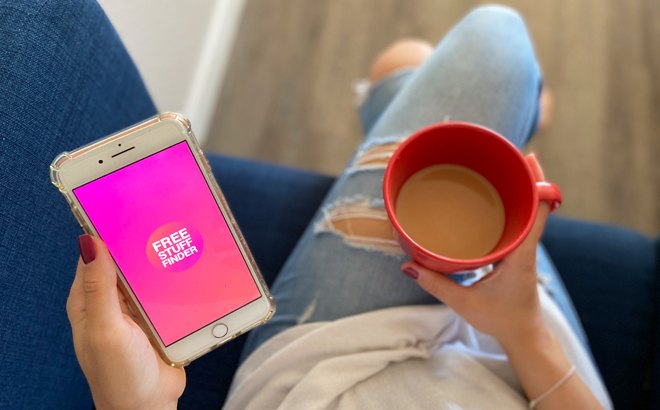 Did you know? You can enter to win a Free $50 in Gift Cards every week from the FSF App? Simply go to the Community tab in the app, and post pictures of your haul or pictures of a quality deals you've found, or engage with others in the community. Note that not all community submissions will be approved.
I love seeing what deals you guys did! Please snap a pic and post it in the Community section!
This is a weekly Giveaway that ends on Tuesday of each week. Winners announced on Wednesdays. The Next Round of Community Giveaways Starts on Wednesday, 11/25 and ends on Tuesday, 12/1!
Giveaway #5: Surprise Giveaways
Keep an eye out and check back on my IG story or on this page for more Surprise Giveaway Prizes being released at different times during the party. 🙂 Stay Tuned!
Happy Black Friday Week! Love you guys! ❤️