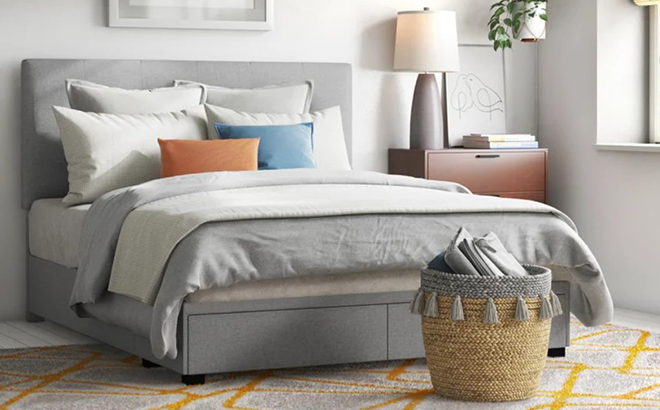 Wayfair is hosting a Cyber Week with tons of great deals on furniture, rugs, lighting and more! As just one deal idea, save on bedroom furniture and shop beds, dressers, nightstands and more, now marked at up to 80% off. Prices start at $57.99 (regularly $90), plus, new customers can get a 10% off unique promo code when subscribed to Wayfair emails, which will drop your final price to just $52.20! Even better, shipping is free on all orders! Check out a few deal ideas below!
Here's What To Do:
Click

 

here

 

to get your 10% off
Important: Enter your email address, press submit (existing customers skip this step)
Check your email: the 10% off code should be in your inbox (new customers)
Next, go

 

here

 

to access the

Bedroom Furniture sale

 and shop around
Use your personal promo code (from email) to save an additional 10%
Final Price: from only $52.20 shipped!
Bedroom Furniture Deals!
Lon Stainless Steel Nightstand $57.99 (Reg $90)
Search for W005577181 or click here
Use custom 10% off promo code at checkout
ONLY $52.20 (Reg $90) + FREE Shipping
Ronnie Upholstered Storage Bed $178.49 (Reg $624)
Search for W003086525 or click here
Use custom 10% off promo code at checkout
ONLY $160.65 (Reg $624) + FREE Shipping
Dionis Upholstered Bed $319.99 (Reg $657)
Search for W006113322 or click here
Use custom 10% off promo code at checkout
ONLY $287.99 (Reg $657) + FREE Shipping
Grantville 4-Drawer Dresser $137.99 (Reg $263)
Search for W005759364 or click here
Use custom 10% off promo code at checkout
ONLY $124.20 (Reg $263) + FREE Shipping
Leflore Wood Nightstand $129.99 (Reg $300)
Search for W007233219 or click here
Use custom 10% off promo code at checkout
ONLY $116.99 (Reg $300) + FREE Shipping
Yuliana Upholstered Headboard $188.49 (Reg $518)
Search for W006114498 or click here
Use custom 10% off promo code at checkout
ONLY $169.65 (Reg $518) + FREE Shipping
Baker Metal Bed $311.24 (Reg $689)
Search for W003318131 or click here
Use custom 10% off promo code at checkout
ONLY $280.12 (Reg $689) + FREE Shipping
Delp Upholstered Bed $201.32 (Reg $307)
Search for W005405309 or click here
Use custom 10% off promo code at checkout
ONLY $181.19 (Reg $307) + FREE Shipping
Pomfret Upholstered Bed $135.27 (Reg $301)
Search for W001841387 or click here
Use custom 10% off promo code at checkout
ONLY $121.75 (Reg $301) + FREE Shipping
Gries 4-Drawer Dresser $325.99 (Reg $719)
Search for W004867273 or click here
Use custom 10% off promo code at checkout
ONLY $293.40 (Reg $719) + FREE Shipping
Katheryn Manufactured Wood Armoire $379.99 (Reg $885)
Search for W004866270 or click here
Use custom 10% off promo code at checkout
ONLY $341.99 (Reg $885) + FREE Shipping