Through today, March 6th – Wayfair is hosting their Spring Savings Sale! Shop sheets sets, comforters, quilt sets and more for great prices, now up to 80% off! Deals start at $14.99 – regularly $40. In addition, new customers can get a 10% off unique promo code when subscribed to Wayfair emails, which will drop your final price to just $13.49! Note that, unless otherwise stated on the product page, shipping is free on orders over $35.
Check out some of the today's deals below and browse more Spring Savings deals!
Here's What To Do:
Important: Enter your email address, press submit (existing customers skip this step)
Check your email: the 10% off code should be in your inbox (new customers)
Next, go

 

here

 

to access the

Bedding sale

 and shop around
Use your personal promo code (from email) to save an additional 10%
Final Price: from only $13.49!
Bedding Up to 80% Off
4-Piece Sheet Set – Twin $14.99 (Reg $40)
(taupe)
Search for PLYH1015 or click here
Use custom 10% off promo code at checkout
ONLY $13.49 (Reg $40)
Cynthiana 4-Piece Sheet Set – Twin $23.99 (Reg $100)
(light gray)
Search for W001131986 or click here
Use custom 10% off promo code at checkout
ONLY $21.59 (Reg $100) + FREE Shipping
All Season Microfiber Down Alternative Comforter – Queen $32.99 (Reg $120)
Search for W002302945 or click here
Use custom 10% off promo code at checkout
ONLY $29.69 (Reg $120) + FREE Shipping
Eddie Bauer 100% Cotton 4-Piece Sheet Set – Queen $54.99 (Reg $120)
(campout)
Search for W004885301 or click here
Use custom 10% off promo code at checkout
ONLY $49.49 (Reg $120) + FREE Shipping
Belmont 3-Piece Duvet Cover Set Full/Queen $56.33 (Reg $217)
Search for EDED1138 or click here
Use custom 10% off promo code at checkout
ONLY $50.70 (Reg $217) + FREE Shipping
Wayfair Sleep Down Alternative Comforter – Full $62.99 (Reg $150)
Search for W003507977 or click here
Use custom 10% off promo code at checkout
ONLY $56.69 (Reg $150) + FREE Shipping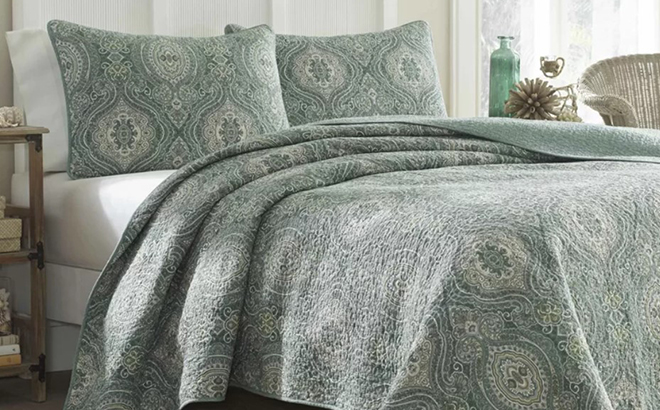 Turtle Cove 3-Piece Quilt Set – Queen/Full $77.99 (Reg $200)
(green)
Search for TBB1658 or click here
Use custom 10% off promo code at checkout
ONLY $70.19 (Reg $200) + FREE Shipping
Down & Feather Blend Comforter – King $78.99 (Reg $250)
Search for W005272768 or click here
Use custom 10% off promo code at checkout
ONLY $71.09 (Reg $250) + FREE Shipping
Laura Ashley 3-Piece Quilt Set – King $79.99 (Reg $250)
(white/gray)
Search for W004697491 or click here
Use custom 10% off promo code at checkout
ONLY $71.99 (Reg $250) + FREE Shipping
Egyptian Quality 4-Piece Sateen Sheet Set $84.99 (Reg $210)
(ivory)
Search for W005052452 or click here
Use custom 10% off promo code at checkout
ONLY $76.49 (Reg $210) + FREE Shipping
Felicity 3-Piece Quilt Set – King $89.99 (Reg $250)
(white)
Search for LAH1089 or click here
Use custom 10% off promo code at checkout
ONLY $80.99 (Reg $250) + FREE Shipping