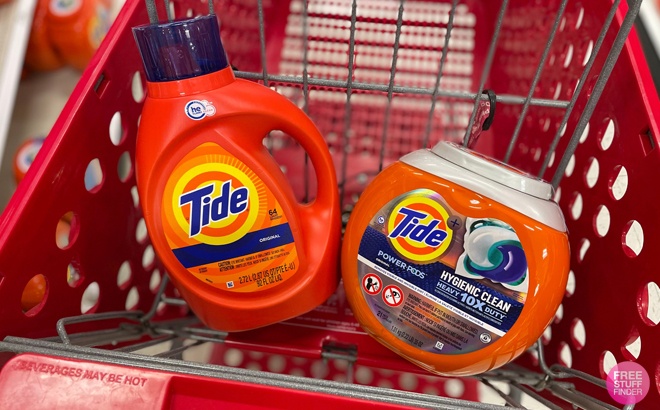 Deals start 1/23. Listed below are the best deals for the week of 1/23 – 1/29 at Target.
New to couponing at Target? Check out our my Target 101 Video or the Cartwheel 101 Video. 🙂
If you haven't already Click Here to Sign up to Target RedCard for Free (Debit or Credit Card) to Save an extra 5% on all your Target purchases. Plus, as a RedCard holder, you also get Free Shipping on all online orders. And you get extended returns – An extra 30 days to return stuff. Sweet!
Household
Deal: Buy Two, Get Back $5 Target Gift Card
Select Tide, Gain, Downy, Mr. Clean, Kleenex, or Up & Up Products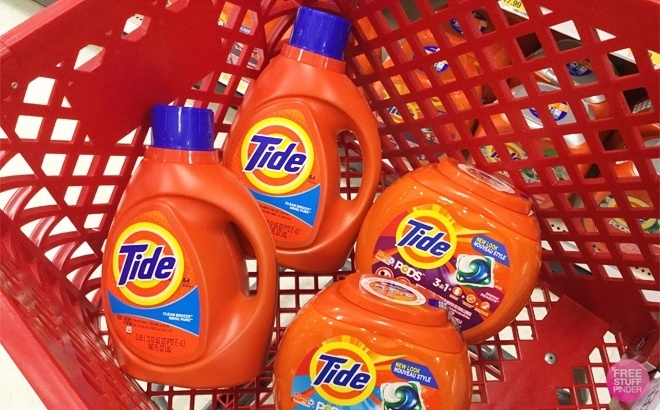 Scenario 1:
(Deal: Buy Two Select Tide, Gain, Downy, Mr. Clean, Kleenex, or Up & Up Products, Get Back $5 Target Gift Card)
► Buy 1 Tide Laundry Detergent (92oz) = $11.99
► Buy 1 Tide Pods Laundry Detergent Pacs (32 or 42ct) = $11.99
Sub-Total: $23.98
Use $3/1 Tide Laundry Detergent 92oz+ (PG 12/26, 1/29) = -$3
And use $3/1 Tide pods 32ct+ (PG 12/26, x1/29) = -$3
Pay: $17.98
Get Back: $5 Target Gift Card
Final Price: $6.49 each or $12.98 for both
Scenario 2:
(Deal: Buy Two Select Tide, Gain, Downy, Mr. Clean, Kleenex, or Up & Up Products, Get Back $5 Target Gift Card)
► Buy 1 Downy Liquid Fabric Softener (129oz) = $9.99
► Buy 1 Gain Liquid Fabric Softener (129oz) = $9.99
Sub-Total: $19.98
Use $2/1 Downy Liquid Fabric Conditioner 105-174ld (PG 12/26, 1/29) -limit 1 = -$2
And use $2/1 Gain Liquid Fabric Softener 105-150ld (SV 1/2, x2/12) = -$2
Pay: $15.98
Get Back: $5 Target Gift Card
Final Price: $5.49 each or $10.98 for both
Medicine & Health
Deal: Buy Two, Get Back $5 Target Gift Card
Select Cough & Cold Relief Items
(Deal: Buy Two Cough & Cold Relief Items, Get Back $5 Target Gift Card)
► Buy 2 Alka-Seltzer Plus Cold Relief Drink Tablets (20ct) @$6.99 = $13.98
Use two $2/1 Alka-Seltzer Effervescent Products 10ct+ (SS 1/2, x1/30) = -$4
Pay: $9.98
Get Back: $5 Target Gift Card
Final Price: $2.49 each (Reg $6.99) or $4.98 for both
► Buy 2 Kleenex Facial Tissue 6-Pack (660-Count) @$8.49/ea = $16.98
Use 10% off Kleenex Products Circle Offer (x2/26)
(gift card applied before 10% off)
And use two $1/1 Kleenex Facial Tissue Bundle Pack (SS, 1/9) = -$2
Pay: $13.78
Get Back: $5 Gift Card for buying two
Final price: $4.39 each or $8.78 for both
Deal: Buy Two, Get Back $5 Target Gift Card
Select Digestive Health Items
(Deal: Buy Two Digestive Health Items, Get Back $5 Target Gift Card)
► Buy 2 Pepcid AC Acid Reducers Tablets (50ct) @$18.99 = $37.98
Use $2.50/1 Pepcid Product 7ct+ (SV 1/16, x2/5) = -$2.50
And use $2.50/1 Pepcid Target Circle (x2/5) = -$2.50
Pay: $32.98
Get Back: $5 Target Gift Card
Final Price: $13.99 each or $27.98 for both
Deal: Buy Three, Get Back $5 Target Gift Card
Select Feminine Care Items
(Deal: Buy Three Feminine Care Items, Get Back $5 Target Gift Card)
► Buy 3 Cora Organic Cotton Liners (40ct) @$5.99 = $17.97
Pay: $17.97
Get Back: $5 Target Gift Card
Final Price: $4.32 each or $12.97 for all
► Aspercreme External Pain Relief Items
Buy One Get One 25% Off
► Icy Hot External Pain Relief Items
Buy One Get One 25% Off
► 10% Off Pregnancy Kits
► 10% Off Ovulation Testing Kits
► 10% Off Select Vitamins
Personal Care
Deal: Buy Four, Get Back $5 Target Gift Card
Select Beauty & Personal Care Items
(Deal: Buy Four Beauty & Personal Care Items, Get Back $5 Target Gift Card)
► Buy 2 Dove Anti-Dandruff Shampoo (12oz) @$4.99 = $9.98
► Buy Dove Deep Moisture Body Wash (22oz) = $6.49
► Buy Dove 0% Aluminum Deodorant (2.6oz) = $5.99
Sub-Total: $22.46
Use $2/2 Dove Hair Care Products (UL 1/23, x2/5) = -$2
And use $1.50/1 Dove Body Wash 22oz+ UL 1/23, x2/5) = -$1.50
And use $1.50/1 Dove Advanced Care, Even Tone, Zero, or Clinical Deodorant (UL 1/23, x2/5) = -$1.50
Pay: $17.46
Get Back: $5 Target Gift Card
Final Price: $3.12 each or $12.46 for all four
► Buy 4 Tresemme Shampoo or Conditioner (28 or 39 oz) @$3.89/ea = $15.56
Use two $4/2 Tresemme Shampoo or Conditioner 28 or 39 oz Coupons (USS 1/23, x2/5) = -$8
Pay: $7.56
Get Back: $5 Target Gift Card for buying four
Final Price: 64¢ each or $2.56 for all four
► 15% Off Jozi Curls Products
► 15% Off Naturium Products
► 15% Off Raw Sugar Products
► 15% Off W3LL PEOPLE Products
► 15% Off Almay Products
► 15% Off Pacifica Products
► 15% Off PYT Beauty Products
► 15% Off Burt's Bees Products
► 15% Versed Products
► 15% Off Megababe Products
► 15% Off Hello Products
► 15% Tom's of Maine Products
► 15% Off Raw Sugar Hair Care Products
Food
► Buy SuperPretzel Soft Pretzels 6-Pack = $2.99
Use $1/1 SuperPretzel Soft Pretzels Circle (x3/13, limit 1) = -$1
Pay: $1.99
Submit for: $1/1 SuperPretzel Ibotta Cashback (limit 5)
Final Price: 99¢ (Reg $2.99)
► Good & Gather Ground Coffee (12oz)
ON SALE $4.99 each when you buy 2
Deal: Spend $20, Get Back $5 Target Gift Card
Select Pepsi Beverages and Frito-Lay Snacks
(Deal: Spend $20 On Select Pepsi Beverages and Frito-Lay Snacks, Get Back $5 Target Gift Card)
► Buy 3 Pepsi Beverages (12pk) @ 3 for $13
► Buy 2 Doritos Nacho Cheese Chips (9.25oz) @ 2 for $7
Pay: $20
Get Back: $5 Target Gift Card
Final Price: $3 each or $15 for all
► Select Valentine's Day Chocolate Candy (6.75-10.7oz)
Buy One Get One 25% Off
► Boxed Chocolate Hearts (2.6-6.9oz)
ON SALE $4.49
► Select Candy Exchange Kits (8.11-13.75oz)
ON SALE $3.49
► Favorite Day Seasonal Sweet Treats
Buy One Get One 25% Off
► Aquafina Bottled Water (24pk)
ON SALE 2/$10
► LaCroix Sparkling Water (8pk)
ON SALE 2/$7
► Red Bull Energy Drinks (12pk)
ON SALE $17.99
► Cheez-It Crackers (8-12.4oz)
ON SALE 2/$5
► Tillamook Slices, Block, Shredded, & Cracker Cuts Cheese
ON SALE $2.99
► Old El Paso Dinner Kits (8.8-12.5oz)
ON SALE 2/$5
► Old El Paso Tortilla Bowls (5.1-6.7oz)
ON SALE 2/$5
► Good & Gather Refrigerated Sides
ON SALE $3.49
► Good & Gather Frozen Chicken Wings (3lbs)
ON SALE $6.99
► Sea Cuisine Frozen Fish
ON SALE $6.99
► Good & Gather Frozen Large Tail-On, Peeled, & Deveined Cooked Shrimp
ON SALE $6.99
► Select SkinnyPop Popcorn
ON SALE 2/$6
► Select PopCorners Snacks
ON SALE 2/$6
► Select Kettle Brand Chips
ON SALE 2/$6
► Larabar Value Pack Bars (12ct)
ON SALE $10.49
► Impossible Plant-Based Burger Ground (12oz)
ON SALE $5.99
► Stonyfield Yogurt Packs (12ct)
ON SALE $5.99
► Humm Kombucha (11-14oz)
ON SALE 2/$5
► Good & Gather Chopped Salads (10-13.85oz)
ON SALE $2.99
► Good & Gather Single-Serve Coffee Pods (16ct)
ON SALE $7.99 each when you buy 2
► Kodiak Cakes Flapjack Mixes
ON SALE $4.49
► Kodiak Cakes Oatmeal Packets
ON SALE $4.49
► Post Family-Size Cereal (20-23oz)
ON SALE $3.79
► Halo Top Ice Cream (14-16oz)
ON SALE 2/$7
► Haagen-Dazs Ice Cream (14-16oz)
ON SALE 2/$7
► Haagen-Dazs Bars (3 or 6pk)
ON SALE 2/$7
Baby
Deal: Buy Two, Get Back $15 Target Gift Card
Select Enormous Pack Diapers
(Deal: Buy Two Enormous-Pack Diapers, Get Back $15 Target Gift Card)
► Buy 1 Huggies Little Movers Disposable Diapers (120 ct) = $43.49
► Buy 1 Pampers Swaddlers Diapers (120 ct) = $42.99
Sub-Total: $86.48
Use one $2/1 Huggies Diapers 10ct+ (SS 1/2, x1/30) = -$2
Pay: $84.48
Get Back: $15 Target Gift Card
Final Price: $34.24 each or $68.48 for both
Deal: Buy Two, Get Back $5 Target Gift Card
Select Formula Tubs
(Deal: Buy Two Formula Tubs, Get Back $5 Target Gift Card)
► Buy 2 Enfamil Premium Toddler Formula Powder (24 oz) @$18.99/ea = $37.98
Pay: $37.98
Get Back: $5 Target Gift Card
Final Price: $16.49 each or $32.98 for both
Home & Kitchen
Deal: 40% Off All CRUXGG Appliances
► CRUXGG Rotating Ceramic Nonstick Waffle Maker
ON SALE $29.99 (Reg $49.99)
► CRUXGG 6-in-1 Digital Touchscreen Countertop Air Fryer
ON SALE $59.99 (Reg $99.99)
► CRUXGG 9-qt 6-in-1 Air Fryer with TriZone Technology
ON SALE $101.99 (Reg 169.99)
► CRUXGG 14-cup Programmable Coffee Maker
ON SALE $41.99 (Reg $69.99)
► Mr. Coffee 12-cup Programmable Coffee Maker
ON SALE $24.99 (Reg $34.99)
► Oster Classic Series 5-Speed Blender
ON SALE $24.99 (Reg $29.99)
► Instant Pot Duo 6-qt Pressure Cooker
ON SALE $89.99 (Reg $99.99)
► Cuisinart Classic 11-pc Stainless Steel Cookware Set
ON SALE $129.99 (Reg $159.99)
► SodaStream Terra Sparkling Water Maker
ON SALE $79.99 (Reg $99.99)
► Nutribullet 1200-watt Blender
ON SALE $79.99 (Reg $109.99)
► Keurig K-Duo Single-Serve and Carafe Coffee Maker
ON SALE $139.99 (Reg $189.99)
► Ninja Max XL 5.5-qt Air Fryer
ON SALE $149.99 (Reg $169.99)
► Whirlpool 3.1-cubic-ft Mini Refrigerator with Freezer Door
ON SALE $159.99 (Reg $219.99)
► Ninja Foodi Digital Air Fryer with Convection
ON SALE $219.99 (Reg $239.99)
► Ninja Foodi 6.5-qt 14-in-1 Pressure Cooker and Steam Fryer with SmartLid
ON SALE $249.99 (Reg $279.99)
► Rubbermaid TakeAlongs 16-pc Meal Prep Container Set
ON SALE $8.99 (Reg $9.99)
► Ball 20oz Cold Aluminum Cups (10ct)
ON SALE $4.49
► iRobot Roomba j7+ Wi-Fi Connected Self-Emptying Robot Vacuum
ON SALE $599.99 (Reg $849.99)
► Shark Professional Steam Pocket Mop
ON SALE $89.99 (Reg $109.99)
► Hoover Power Scrub Deluxe Carpet Cleaner and Upright Shampooer
ON SALE $149.99 (Reg $199.99)
► Shark Navigator Swivel Pro Pet Upright Vacuum
ON SALE $219.99 (Reg $259.99)
► Bissell ProHeat 2X Rdealevolution Pet Pro Plus Carpet Cleaner
ON SALE $278.99 (Reg $308.99)
► Bissell CrossWave All-In-One Multi Surface Wet Dry Vacuum
ON SALE $224.99 (Reg $257.99)
Apparel & Electronics
► TCL 55" Roku 4-Series Full HD 4K UHD HDR Smart TV
ON SALE $349.99 (Reg $519.99)
► Element 50" Roku 4K UHD HDR Smart TV
ON SALE $369.99 (Reg $399.99)
► LG 55" Smart LED UHD HDR TV with Real 4K Display
ON SALE $429.99 (Reg $479.99)
► LG 55" Smart OLED 4K UHD HDR TV
ON SALE $1,099.99 (Reg $1,399.99)
► 15% Off Sanus Large Full Motion Wall Mount for TVs 42"-85"
► Amazon Fire TV Stick with Alexa Voice Remote
ON SALE $19.99 (Reg $39.99)
► Amazon Fire TV Stick with 4K Ultra HD Streaming Media Player and Alexa Voice Remote
ON SALE $29.99 (Reg $49.99)
► LG 2.1-Channel 400-watt High Res Audio Soundbar with DTS:X
ON SALE $179.99 (Reg $199.99)
► VIZIO 55" 4K V-Series HDR LED Smart TV
ON SALE $429.99 (Reg $529.99)
► VIZIO 55" 4K M6 Series Quantum HDR LED Smart TV
ON SALE $499.99 (Reg $609.99)
► Samsung 55" 4K Smart UHD HDR TV
ON SALE $549.99 (Reg $629.99)
► Samsung 65" UHD HDR TV with 4K Display
ON SALE $679.99 (Reg $799.99)
► Skullcandy Jib True Wireless Headphones
ON SALE $26.99 (Reg $31.99)
(available Friday)
► Pokemon Legends Arceus
Only $59.99 + Free Art Portfolio with Purchase
► Portal TV from Facebook
ON SALE $99 (Reg $149)
► Portal 10" Display from Facebook
ON SALE $99 (Reg $179)
► HP 24" IPS Full HD Computer Monitor
ON SALE $189.99 (Reg $209.99)
► HP 14" Chromebook Laptop
ON SALE $239.99 (Reg $289.99)
► HP 14" Stream Touchscreen Laptop
ON SALE $259.99 (Reg $289.99)
Deal: Buy Samsung Galaxy Z Flip3 5G with Qualified Activation, Get Back $200 Target Gift Card
► Buy 1 Samsung Galaxy A12 on Total Wireless with Qualified Activation = $129.99
Pay: $129.99
Get Back: $30 Target Gift Card
Final Price: $99.99
► Buy 1 Samsung Galaxy S21 FE 5G Unlocked Phone with Qualified Activation = $699.99
Pay: $699.99
Get Back: $100 Target Gift Card
Final Price: $599.99
► 15% OtterBox Phone Cases & Accessories
► TurboTax Deluxe 2021 Federal & State Tax Software
ON SALE $49.99 (Reg $59.99)
Pets
Deal: Buy Two, Get Back $5 Target Gift Card
Select Fresh Step, Arm & Hammer, or Up & Up Cat Litter Products
(Deal: Buy Two Fresh Step, Arm & Hammer, or Up & Up Cat Litter, Get Back $5 Target Gift Card)
► Buy 2 Up & Up Cat Litter (35lb) @11.99/ea = $23.98
Pay: $23.98
Get Back: $5 Target Gift Card
Final Price: $9.49 each or $18.98 for both
► All PL360 Pet Waste & House Training Products
Buy One, Get One 30% Off
► All Earth Rated Pet Waste & House Training Products
Buy One, Get One 30% Off