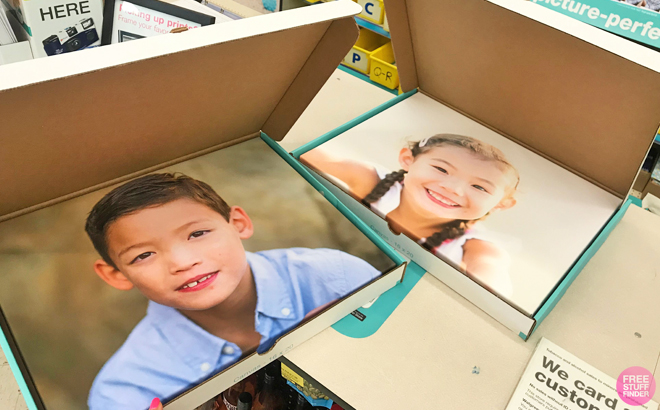 Through October 22nd, Check out Walgreens to score 50% off Custom Photo Prints when you use code BESTPHOTO at checkout. You can chose from different sizes of cards, canvases, wall décor, photo books and more. Code must be applied at time of checkout either through your myWalgreens account or Photo online account, or you can opt to apply the code in-store at the photo kiosk or mobile checkout. The code can be applied up to five times. Check out the entire selection here!
Thanks for the tip iveygirl35 from our App Community.
Photo Prints 50% Off
Set of 20 Flat Photo Cards, 5×7 $22.80
Use code BESTPHOTO (50% off, limit 5)
ONLY $11.40 (Reg $22.80)
Custom Poster Prints $12.99
Use code BESTPHOTO (50% off, limit 5)
ONLY $6.49 (Reg $13)
Unframed Canvas Photo Print $89.99
Use code BESTPHOTO (50% off, limit 5)
ONLY $44.99 (Reg $90)
By the Way: Download my app (iPhone or Android) for the easiest way to browse and find the latest deals, including deal tips and hauls submitted from our community. Click on "Community" to check it out. 😍 

Win a Free $50 Gift Card Every Week! If you have scored or spotted any great deals, make sure to post it in the Community Section to be entered to win a Free $50 Gift Card each week! You can also engage with any post to enter (Comment on other people's posts)!

What to Submit to the Community Section:

❤️ Your Shopping Haul – Deals you've done
❤️ Stuff You've Received – Deals you've received
❤️ Deal Tips – See a sale while you're out?
❤️ Clearance Tips – See a good clearance in stores?
❤️ Other Hot Deals or Freebies – Deals not posted before, if you happen to find something new, post it in the app. If I end up posting it on the blog, I'll credit you for it.