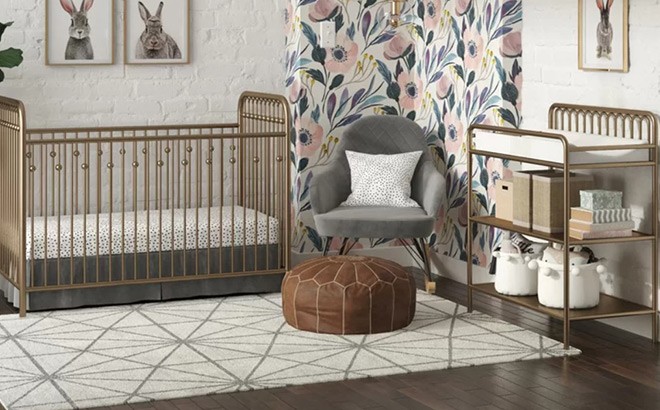 For a limited time – Stop by Wayfair for great deals on Nursery & Kids Furniture! We spotted cribs, beds, gliders, changing tables and more marked at up to 70% off! Prices are starting at $87.07 (regularly $150), plus, new customers can get an extra 10% off when they subscribe to Wayfair emails, dropping the price to just $47.70. Shipping is free on orders over $35. See our deal ideas below!
Here's What To Do:
Important: Enter your email address, press submit (existing customers skip this step)
Check your email: the

 

10% off code

 

should be in your inbox (new customers)
Next, go

 

here

 

to access the sale on Nursery & Kids Furniture and shop around
Use your personal promo code (from email) to save an additional 10%
Final Price: $47.70 with free shipping!
Nursery & Kids Furniture Deals:
Kameron Changing Table $52.99 (Reg $133)
Search for W003377593 or click here
Use custom 10% off promo code at checkout
ONLY $47.70 (Reg $133) + FREE Shipping
Monarch Hill Ivy Crib $239.99 (Reg $492)
Search for W002966712 or click here
Use custom 10% off promo code at checkout
ONLY $215.99 (Reg $492) + FREE Shipping
Kathryn Swivel Reclining Glider $372.08 (Reg $951)
Search for W001206695 or click here
Use custom 10% off promo code at checkout
ONLY $334.88 (Reg $951) + FREE Shipping
Monarch Hill Poppy 6 Drawer Double Dresser $348.52 (Reg $758)
Search for W002966731 or click here
Use custom 10% off promo code at checkout
ONLY $313.65 (Reg $758) + FREE Shipping
Monarch Hill Poppy Changing Table Dresser $229.99 (Reg $483)
Search for W002966750 or click here
Use custom 10% off promo code at checkout
ONLY $206.99 (Reg $483) + FREE Shipping
Monarch Hill Ivy Changing Table $152.36 (Reg $340)
Search for W002966481 or click here
Use custom 10% off promo code at checkout
ONLY $137.13 (Reg $340) + FREE Shipping
Vedika Rocking Chair $285.35 (Reg $632)
Search for W002709588 or click here
Use custom 10% off promo code at checkout
ONLY $256.82 (Reg $632) + FREE Shipping
Piper 2-in-1 Convertible Upholstered Crib $299.99 (Reg $620)
Search for W002966466 or click here
Use custom 10% off promo code at checkout
ONLY $269.99 (Reg $620) + FREE Shipping
Abbas Clouds Handmade Tufted Area Rug $137.99 (Reg $207)
Search for W001830112 or click here
Use custom 10% off promo code at checkout
ONLY $124.20 (Reg $207) + FREE Shipping
Arnold 4-in-1 Bedside Crib $199.99 (Reg $322)
Search for W005088511 or click here
Use custom 10% off promo code at checkout
ONLY $179.99 (Reg $322) + FREE Shipping
Large Play Yard Safety Gate $89.99 (Reg $157)
Search for AEDI1298 or click here
Use custom 10% off promo code at checkout
ONLY $80.99 (Reg $157) + FREE Shipping
Doughton Geometric Handmade Area Rug $102.99 (Reg $177)
Search for W005406302 or click here
Use custom 10% off promo code at checkout
ONLY $92.70 (Reg $177) + FREE Shipping
Eliud Twin Loft Bed by Isabelle & Max $279.99 (Reg $466)
Search for W005059201 or click here
Use custom 10% off promo code at checkout
ONLY $251.99 (Reg $466) + FREE Shipping
Rayner Full Solid Wood Platform Bed $193.99 (Reg $482)
Search for W005270597 or click here
Use custom 10% off promo code at checkout
ONLY $174.99 (Reg $482) + FREE Shipping