For a limited time, New Members to Thrive Market can snag a FREE gift (up to $25 value) with the purchase of their annual Thrive Market Membership! For as little as $5 per month, members get access to the best organic brands, guaranteed savings, fast & free carbon-neutral shipping, and the ability to easily shop by their diet and values. Plus, you can send this membership as a gift.
Note that the free gift is included only with the annual membership and will come with your first order. There are four options to choose from, check them out below:
Bob's Red Mill Peanut Butter Coconut & Oats Bar 12-Pack ($23 value)
Chomps Original Grass-Fed Beef Snack Sticks 10-Pack ($24 value)
Primal Kitchen Avocado Oil & Ranch Dressing ($21 value)
Thrive Market Stainless Steel 25oz Water Bottle ($25 value)
Here's what to do:
Go to Thrive Market and click on the "Get started" button
Choose your FREE Gift (up to $25 value)
Fill out a quick questionnaire about the products you use
Create an account
Select annual membership
Final Price: $5 per month or $60 per year + FREE Gift
Thrive Market carries over 6,000 organic and non-GMO products that fit any diet or lifestyle. From organic snacks and nontoxic beauty to household products and clean wines. Filter by 70+ diets and values, including keto, paleo, vegan, and gluten-free, to shop what matters most to you. Shipping is free with orders over $49.
Thrive Market members get wholesale pricing on their catalog of over 6,000 products, with discounts of up to 50% off retail. The average member saves about $30 off retail pricing per order, which means most members make back the annual membership fee in savings in just two purchases. If you don't make your annual membership fee back in savings over a year, Thrive will give you the difference back in Thrive Cash to your account when you renew your annual membership!
Benefits of a Thrive Market Membership: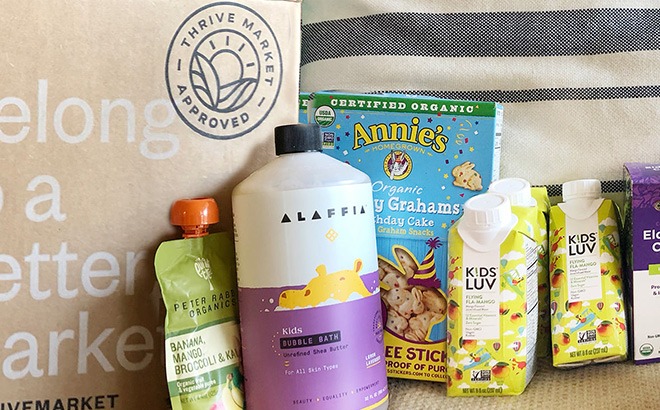 Guaranteed savings on 6000+ healthy essentials.
Low-Price Promise: Find a product cheaper elsewhere? They'll beat their price.
RISK-FREE: Cancel within 30 days for a full refund.
Up to 50% off retail prices, every day, no coupons needed.
Savings Guarantee in the form of Thrive Cash on your next annual membership.
Every paid membership sponsors a free one for a low-income family.
NOTE: By signing up to be a member, you get a Free 30-Day Membership Trial. You can cancel your Free trial at any time via the Membership tab on your Account page, by contacting the Member Services team at (866) 419-2174 or by emailing help@thrivemarket.com. After 30 days, the membership fee is $59.95 a year until canceled.