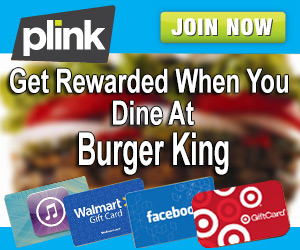 *HOT OFFER! Hurry! – this offer expires March 23rd.
Spend $7 at Burger King and get back $4.50 in rewards. So in essence you get $7 worth of food for just $2.50. Note: This offer is an private unadvertised deal and it will not show up as an offer in your Plink Wallet.
Go to Plink to sign up for free, it takes less than 5 minutes. Just signing up earns you $3.00.
Link a credit or debit card to your Plink account. (see below if this makes your nervous)
Make a purchase of $7.00 or more at a Burger King by March 23 (as a private offer, Burger King may not show up in Plink. This is normal). This earns you $1.00.
Upload a photo of your receipt to photos@plink.com with "Burger King" in the subject. This earns you another $0.50.
Done! $4.50 in rewards will be in your account within 7 business days.
How does Plink work?
When you sign up, you link a credit or debit card with Plink.  Then when you shop with that card, participating stores will link your purchases with your Plink account and you earn Plink points that are redeemable for Gift Cards.
You'll earn rewards at more than 40,000 locations, nation-wide. It's Free to join.
Worry about linking your credit card? Plink doesn't actually store your credit card information. It is done through Intuit (the people who makes Turbo Tax and Quicken). Intuit handles all that information security and for security purposes. The connection process is identical to the one used by mint.com. We would never recommend a service that didn't have our full confidence.