Through September 2nd, shop at Walgreens where they are offering a three for $13.99 sale on Pepsi Zero Sodas 12-Pack! Plus, you can combine it with other saving offers we found.
As a deal idea, grab three Pepsi Max Zero 12-Pack on sale for $13.99 (regularly $10 each) and grab two Pepsi Zero Wild Cherry 12-Pack on sale for $9.33 (regularly $10 each). Plus, use this $2 off five Pepsi-Cola Beverages Manufacturer Digital coupon, and then use the promo codes WAG10 or GET10 for an extra 10% off, making your final price just $3.83 or $19.19 for all five boxes!  You can mix and match any eligible sodas of your choice.
Note that the $13.99 for three 12-packs offer is available both in-store and online, but you can not use the 10% off codes in-store. Shipping is not available but you can opt for pickup – it's free for eligible items when the order subtotal is $10 or more. Don't forget to log in to your myWalgreens account to access coupons.
📌Note: Keep in mind that Walgreens coupons often vary by user.
Pepsi Soda 12-Pack Just $3.83 Each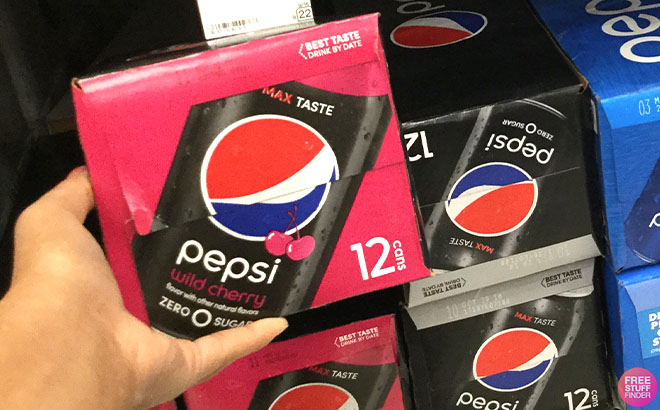 Buy 3 Pepsi Zero 12-Pack (12 oz) @3 for $13.99 (Reg $10)
Buy 2 Pepsi Zero Wild Cherry 12-Pack (12 oz) @2 for $9.33 (Reg $10)
Sub-Total: $23.32
Use $2/5 Pepsi-Cola Beverages Manufacturer Digital Coupon (limit 1, x9/9)
(Walgreens coupons vary by user)
Use promo code WAG10 or GET10 (extra 10% off)
ONLY $3.83 or $19.19 for all five boxes