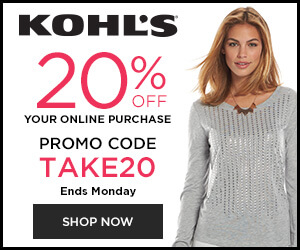 Now through 10/11, get 20% Off Your Online Purchase at Kohl's! Just use the promo code TAKE20 to receive this discount. You'll also get Free Shipping on orders over $75. This coupon can be stacked with the Columbus Day sales, where you'll save big on items for the entire family. Check out some of the sales below:
Score great deals with this Extra 20% Off coupon – happy shopping! 🙂
Here is a list of other available promo codes to use:
*Remember, if you are using a desktop computer, you can use four promo codes per order. If you are using a mobile device, you can only use two codes per order.
HOME10: $10 off your home purchase of $50 or more (exp 10/12)
MADE4WALKIN: $10 off your women's comfort and athletic shoe purchase of $50 or more (exp 10/12)
SPORTSFAN10: $10 off your team merchandise purchase of $50 or more (exp 10/12)
JRTOPS10: $10 off your juniors' top purchase of $30 or more (exp 10/17)
MYFIT: Extra 20% off Petites' apparel for women (exp 10/14)
TRICK15: Extra 15% off Costumes and Halloween merchandise (exp 10/14)
ROCK10: $10 off each pair of women's and men's Rock & Republic jeans (exp 10/14)
NUNNBUSH15: Extra 15% all Nunn Bush shoes (exp 10/14)
TIP: Save even more by using discounted gift cards to pay. You can save 2% to 30% off from the value of these cards. Free $5 credit on your first discounted gift card purchase. Click here to learn more.