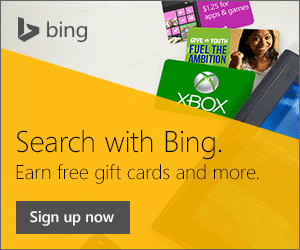 Check out the Bing Rewards program and start earning rewards just for using Bing as your search engine! You earn credits by searching with Bing, setting your homepage to Bing or trying out new features on Bing.
You can redeem these credits for airline miles, fuel points, discounts on movies and meals, or get gift cards from Microsoft and retailers including Starbucks, Amazon, and Sephora. You can also redeem your credits to enter sweepstakes for prizes like Xbox One consoles and games, Surface tablets, and high-value gift cards.
Here's what to do:
Download the Bing Bar (lets you start earning credits)
Sign in with your Windows Live ID
Once you've accumulated enough credits you can go to the Redemption Center and choose your rewards!