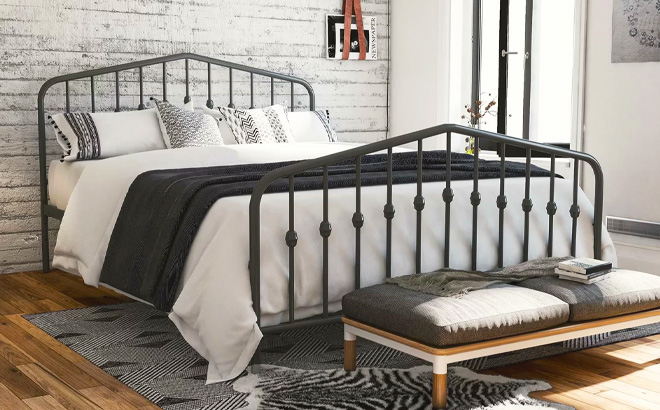 Through February 7th, 6AM PST, get fantastic discounts on a variety of Bedroom Furniture at Wayfair! Shop bed frames, drawer dressers, drawer wardrobes, and more for great prices, now marked at up to 80% off! Prices start at $113.99 (regularly $499) Even better, you'll get an extra 10% off your order as a new customer when you subscribe to Wayfair emails, making the final price just $102.59 with free shipping! See our deal ideas below!
Also, check out this Big Furniture Sale here for a wide selection of furniture for kitchens, entryways, and more!
Here's What To Do:
Click here to get your 10% off
Important: Enter your email address, press submit (existing customers skip this step)
Check your email: the

 

10% off code

 

should be in your inbox (new customers)
Next, go

 

here

 

to access the Bedroom Furniture sale and shop around
Use your personal promo code (from email) to save an additional 10%
Final Price: from only $102.59 shipped!
Bedroom Furniture Up to 80% Off!
Bushwick Metal Platform Bed – Queen $177.99 (Reg $380)
Search for NVGR1063 or click here
Use custom 10% off promo code at checkout
ONLY $160.19 (Reg $380) + FREE Shipping
Hutsonville Upholstered Bed – Twin $113.99 (Reg $499)
Search for W005011550 or click here
Use custom 10% off promo code at checkout
ONLY $102.59 (Reg $499) + FREE Shipping
Kowalczyk Headboard $163.99 (Reg $433)
Search for W005761050 or click here
Use custom 10% off promo code at checkout
ONLY $147.59 (Reg $433) + FREE Shipping
Pratts Upholstered Platform Bed Frame – Full/Double $229.99 (Reg $943)
Search for W001524286 or click here
Use custom 10% off promo code at checkout
ONLY $206.99 (Reg $943) + FREE Shipping
Copake Bed – Queen $249.99 (Reg $419)
Search for THRE5361 or click here
Use custom 10% off promo code at checkout
ONLY $224.99 (Reg $419) + FREE Shipping
Rosalyn Bed – King $264.99 (Reg $761)
Search for W005274809 or click here
Use custom 10% off promo code at checkout
ONLY $238.49 (Reg $761) + FREE Shipping
Helmick 6 – Drawer Dresser $294.99 (Reg $689)
Search for W006427957 or click here
Use custom 10% off promo code at checkout
ONLY $265.49 (Reg $689) + FREE Shipping
Grimaldo 4 – Drawer Dresser $299.99 (Reg $755)
Search for W004866775 or click here
Use custom 10% off promo code at checkout
ONLY $269.99 (Reg $755) + FREE Shipping
Grady Solid Wood Daybed with Trundle $330 (Reg $709)
Search for W004577717 or click here
Use custom 10% off promo code at checkout
ONLY $279 (Reg $709) + FREE Shipping
Katheryn Manufactured Wood Armoire $365.99 (Reg $885)
Search for W004866270 or click here
Use custom 10% off promo code at checkout
ONLY $329.39 (Reg $885) + FREE Shipping
Bucoli 6 – Drawer Dresser $435.99 (Reg $875)
Search for W004867955 or click here
Use custom 10% off promo code at checkout
ONLY $392.39 (Reg $875) + FREE Shipping