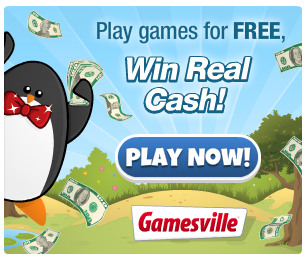 Stop wasting your time playing games that don't pay you for winning – join Gamesville for FREE and play for FREE while winning actual real money and prizes!
I've been a member for quiet a while now and I've won enough that I don't bother playing games anywhere else.  Skeptical?  So was I – until I got a check in the mail!
NO CREDIT CARD NEEDED
every game imaginable (including the Price is Right!!)
You have to confirm your email when you sign up and you have to confirm you are 18 (but I still let my kids play – they gotta earn their keep somehow)   🙂

Sign up and start winning now!