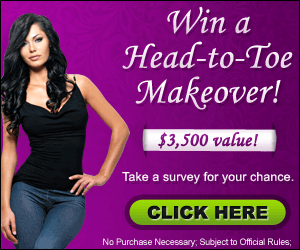 Consumer Expressions is hosting a Head-to-Toe Makeover Sweepstakes.  All you have to do is complete your survey entry for your chance at winning.
In addition, you can choose to actively participate with Consumer Expressions and continue to win great prizes:
Take Simple Surveys
Win Great Prizes and Receive Special Offers
Voice Your Opinion and Make a Difference
Membership is Free and Participation is Voluntary
Complete your entry survey now for your chance to win the Head-to-Toe Makeover.  No purchase is required to participate in this survey.  Must be 18 years of age or older.